Our Commitment to Equally Sacred Issues
We know that Catholics, and people of all faiths or no faith, are called to be politically active in many policy areas that promote human dignity and the common good. Our elected officials deserve our encouragement as well as our engagement in addressing today's most pressing moral and political issues.
As Pope Francis wrote in his apostolic exhortation Gaudete et exsultate, caring for immigrants, dismantling racism, and putting an end to immoral levels of economic inequality are equally sacred to care for the unborn.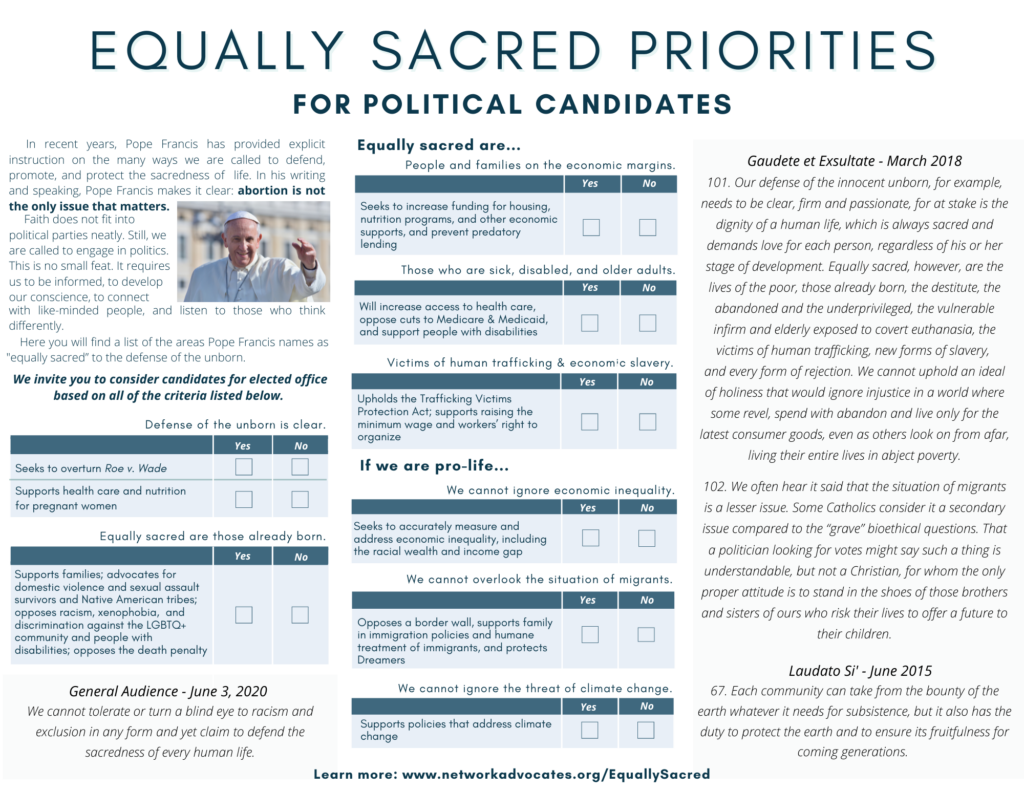 We, the people, have valuable and critically important authority. This is true in both our democracy and the Church. During the 2020 election, the members of our Spirit-filled network acted to support "Equally Sacred" issues. You told candidates and fellow voters that abortion is not the only issue that matters to Catholics.
Right now, the NETWORK community is lobbying to advance legislation like the For the People Act, the EQUAL Act, the Dream and Promise Act, H.R.40 (Creating a Reparations Commission), and more. These bills reflect a justice-oriented, multi-issue policy agenda.
We at NETWORK will keep Building Anew by promoting policies that work to dismantle systemic racism, cultivate inclusive community, root our economy in solidarity, and transform our politics. By valuing and practicing justice, our unified commitment is strong.