Welcoming the Northern Virginia Advocates Team
The newly organized Northern Virginia Advocates Team is working hard to support NETWORK's goals in a variety of ways. Meet some of the members:
Team member Nancy Sheehy met Sister Simone a few years ago, but as a stay-at-home mother, she says: "I didn't see myself being part of the NETWORK effort at that time." In 2016, she helped register voters leading up to the election and soon after joined the team. Recently, Nancy participated in a lobbying visit to Senator Mark Warner's office.
Mary Farrell writes, "To me, NETWORK is faith in action; going forward with the love and learning our faith has given us, bringing Jesus to the world. We hear it from Pope Francis! We all have a duty to do good, and NETWORK has given me the opportunity; for that, I'm very grateful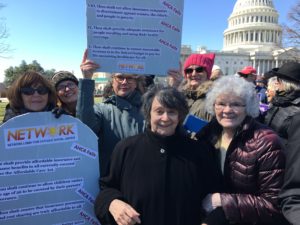 ."
Stephanie Conley (also known as Nana Stephanie) heard about NETWORK's advocacy on healthcare from Mary Farrell. Stephanie says, "As a former nurse, I am particularly concerned about healthcare. After participating in several visits to Congressional representatives urging them not to repeal the Affordable Care Act without a suitable replacement, I decided to join the team."
Barbara Hazelett, explains, "The NETWORK vision and call to Mend the Gaps inspired me to dedicate a significant portion of my free time to furthering this mission." On behalf of the team, Barbara has taken the lead in reaching out to interfaith organizations with common interests and to members of the Virginia Senate and House of Delegates.
Kathey Moore says, "Each of us share a commitment to Catholic Social Justice values and take actions that impact 'the least of these.'" Equipped with training and handouts on the federal budget from NETWORK staff, Kathey visited the district offices of Senator Tim Kaine and Congressman Donald McEachin (VA-04). "We laid out our priorities: funding for the 2020 Census, funding for housing programs, no funding for a border wall and more."
Janet Rife first visited the NETWORK office in 2003 just after the invasion of Iraq, to hear testimony from a group of Iraqi women. She says, "In 2016, I became freshly aware of the importance of NETWORK's long experience, faith perspective, and tireless work in our nation's capital. I am the mother of Brian, a 52-year-old man who sustained a traumatic brain injury in 1985 at the age of 20. In the ensuing years, I've been his advocate, often writing to legislators and lobbying in Richmond for better options for him and thousands of other Virginians with disabilities. Now, with the draconian cuts that have been proposed to Medicaid, I am highly motivated to be a NETWORK advocate."
With four lobby visits already completed, the Northern Virginia NETWORK Advocates Team certainly has a bright future ahead of them, full of continued advocacy and growth! Please contact NETWORK organizer Catherine Gillette (email Catherine) if you are interested in joining the team.
Originally published in Connection magazine. Read the full issue here.