The NETWORK Associate Program is an 11-month intensive educational and professional development experience in legislative advocacy rooted in the principles of Catholic Social Justice.
Designed to cultivate growth into a career in the advocacy, politics, policy, or non-profit arenas through first-hand experience, associates will develop practical, translatable skills as they contribute to the ongoing NETWORK mission.
From late August through July, associates will immerse themselves in Washington D.C. and all it has to offer, undertaking experiences in legislative policy, research, lobbying, coalition-building, community organizing, curriculum development, networking, and media.
Associates will get the chance to create relationships with legislators and non-profit organizations throughout the area, as well as experience the ins and outs of the D.C. policy world.
Focused and engaging, this opportunity gives young professionals the chance to give back to the community by advocating for federal legislation that has the potential to improve the lives of millions of women, men, and children.
Eligibility
NETWORK is interested in people from any faith background who demonstrate:
commitment to the goals and values of NETWORK
a passion for social and economic justice
an interest in politics
a commitment to anti-racism and dismantling oppressive systems (like sexism, ableism, and classism)
effective written and oral communications skills
ability to work both independently and in collaboration with others
computer proficiency
ability to multi-task
a desire to work in a faith-based environment
Associates must be at least 21; there is no upper age limit. Over the years, our associates have been equally divided between college graduates and people in mid-career or retirement phases of their life.
At NETWORK, we strive for a workplace which reflects our diverse communities — particularly in terms of race, gender, sexual orientation, ethnicity, ability, and age. We especially encourage applications from people of color.
Remember, you don't need a degree in political science, you don't have to be Catholic, and you don't have to be fresh out of college. You do need the skills above and the passion – ignited by your work, your studies, or your life experience – for the demanding and rewarding work of advocating for social justice.
If this sounds like you, we would like to hear from you!
What Does the Associate Program Look Like?
Communications Associate: Works to engage and activate our network by writing and editing NETWORK materials and publishing content through our digital platforms and external communications.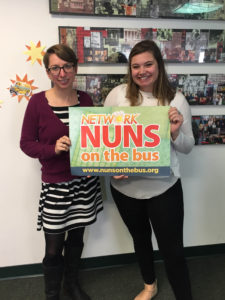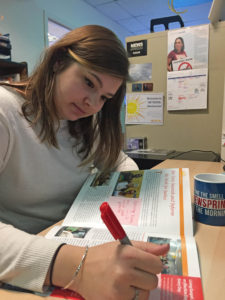 Government Relations Associate: Takes on specific federal-level issues, learns about them in depth, conducts research and creates materials for NETWORK's lobby work in addition to attending and conducting lobby visits on the Hill and participating in coalition meetings.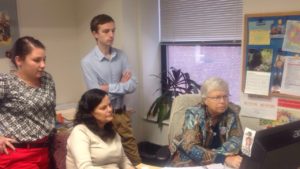 Grassroots Mobilization Associate: Cultivates relationships with communities across the country to connect people with politics.  Develops workshops and educational materials to help the public understand the intersection of politics and faith.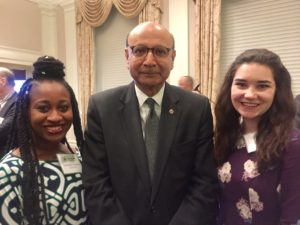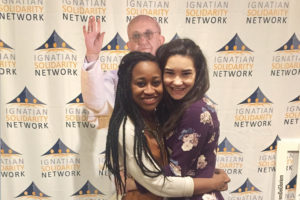 *NETWORK has accepted more than one associate for each position before*
Benefits
$15,000 stipend
$400 per month housing stipend added to your paycheck each month
$100 per month commute benefit added to your paychecks each month
Two weeks (10 days) paid vacation
Two personal days
Twelve sick days a year
Platinum health and dental plan – no deductions from your paychecks unless you choose higher coverage
One-on-one mentorship
Professional and spiritual development
Possible student loan deferral
APPLY
Applications for the 2019-2020 Associate year are now closed. Please check back in the fall for applications for the 2020-2021 Associate year.
What is the timeline of the program?
The Associate Program starts in late August and ends July. Associates arrive in late August, and undergo a two week onboarding process, in which they will learn the essentials of their position, NETWORK, and get an introduction to the world of Washington, DC. Following the two week onboarding, Associates will be ready to begin work the second week of September.
The Associate Program is enhanced by the team-building and connections that occur as Associates experience the program together. In addition, because the staff time and effort needed to conduct orientation and evaluations for Associates is substantial, we are unable to tailor this to individual schedules. If you are not able to start the program in late August and stay through July, this may not be the year for you to apply to the Associate Program.
The application process goes from January through April. Applications will be reviewed starting February 1. Interviews will be conducted throughout February and March. Selected applicants will be notified by April.
What is the difference between the associate positions?
Communications
The Communications Associate uses the media and digital platforms to effectively communicate NETWORK's message to the press, our members, and activists. You will be a part of a Communications team that engages and activates our network through writing blogs and other website content and creating multi-media content, then disseminating it through email, website, social media, and traditional media. You will promote the NETWORK brand across all communications channels and vehicles. A key function of this role is assisting with NETWORK's email marketing and social media presence.
In order to keep our activists educated and engaged, the Communications Associate learns a little bit about all of the issues NETWORK works on. You will work with other teams to integrate media and messaging strategies in major projects and NETWORK campaigns and ensure organizational consistency in all aspects of communication. This fast-paced position is perfect for a creative person with a high-attention to detail.
Grassroots Mobilization
The Grassroots Mobilization Associate cultivates relationships with individuals, communities, and organizations across the country to educate and mobilize our network for political action. In this position, you will develop workshops and resources to help the public understand federal policies, the intersection of faith and politics, and effective lobbying strategies. You will educate student groups and others – e.g. leading workshops at conferences – on NETWORK's policy issues, and mobilize individuals to optimize advocacy strategies.
The Grassroots Mobilization team is responsible for growing, connecting, and nourishing our Spirit-filled network of justice seekers and works to understand and reach others in a broader, long-term context, not only the most current legislation. You will work to organize our local advocates to build clout in key districts and also help coordinate our relationships among all who share our passions. This includes individual activists; faith-based advocacy groups; NETWORK-organized state groups; students, recent grads, and student groups; congregations of women religious; and other local/state coalition partners.
Government Relations
The Government Relations Associate always takes on a few issues and learns about them in depth, but the day-to-day tasks of a Government Relations Associate change as the political climate changes. Upon your arrival at NETWORK you will be assigned to a few issues after discussion with other Government Relations team members. Work on your issues may include: researching, attending coalition meetings with similar organizations, attending lobby visits, writing sign-on letters, creating one-page documents for the NETWORK website or Congressional staffers, and collaborating with the field department to inform and mobilize our grassroots activists on your issues.
At times the work is more general, trying to educate and build general support for an issue, but other times the work is more detailed and specific, attempting to change the language of a bill, lobbying for increased co-sponsors, and then for the eventual passage of a bill. Either way, you will get to know the ins and outs of the issues you are assigned, and you will keep up to date with the latest information from Capitol Hill, across the nation, and abroad.
Does NETWORK provide housing?
NETWORK does not provide housing, but does provide a modest housing stipend. While you would be responsible for making your own housing arrangements, we can assist by providing contact information for group housing situations. Most of these housing placements have hosted Associates in the past, and are accessible via DC's public transportation system.
What is the work environment like?
You will join a group of progressive people committed to social justice who take the time to get to know one another and share fun as well as share the work. We hope you feel welcome and valued as a member of the NETWORK team.
The NETWORK staff are dedicated to finding alternative ways of working together that emphasize collaboration and communication. Our office works in teams, called  "circles" and each of us contributes to the organizational management and gives input on major organizational decisions.
You will have a staff mentor who will guide you and supervise your work. You will also have the opportunity to collaborate with other staff members and give input on our educational and outreach efforts, as well as our legislative strategy. As time allows, you may also choose to learn about areas of the organization such as fundraising, board relations, and communications.
As a staff, we take time to reflect upon our faith and get to know each other. Each day, staff who are available gather for lunch in our conference room to enjoy a little table fellowship. Four times a year we take time away from work or away from the office to explore our faith and deepen our knowledge of justice work and our own political ministry. And we throw some great parties!
We take pride in the fact that each year, participants in the Associate Program remark positively on the high level of responsibility they are given and the degree to which they participate in all facets of the organization.
How much administrative work is there?
The Associate Program is designed to be a substantive learning experience, with a high degree of responsibility. This is not a work experiences where you might find yourself toiling away at the photocopier 38 hours per week and engaging in program work during the other 2 hours. You will be part of the legislative process – setting up and conducting lobby visits, attending coalition meetings, and mobilizing NETWORK members to take action – as well as part of the inner workings of the organization – participating in staff meetings and other organizational events.
Associates typically spend no more than 15% of their time doing administrative tasks such as photocopying, data entry, sorting constituent letters, and preparing our mailers.
You may be encouraged to know that NETWORK is a small organization committed to a collaborative style of work, so all staff and Associates perform some administrative work.
What do Associates do after the program?
Associates have taken a variety of paths after their service with NETWORK. Here's a sampling of what some former Associates have done:
Alison was hired by the Sisters of the Good Shepherd for the first lobbyist position in their newly-formed advocacy office in Washington, DC
James went on to work on several election campaigns, and was one of the founders of Catholics United
Ashley is now the NETWORK Communications Manager, and Colleen is NETWORK's Communications Coordinator
Claire was hired by the Center for American Progress to be the Outreach Manager for the Faith and Progressive Policy Initiative
James went on to teach at a Jesuit high school in Texas and recently earned his Master's Degree at Boston College School of Theology and Ministry
Katie went on to do campaign work with Battleground Texas and now does data work with her alma mater
Bethan is a history PhD candidate at the University of Cambridge
Mary was recently hired as the Digital Media Coordinator with the American Immigration Lawyers Association
Casey is now Chief of Staff of The Washington Center for Equitable Growth
Many associates decide to go to graduate school after their time at NETWORK — two of last year's associates are now attending law school
Other associates have gone on to work as community organizers, campus ministers, legislative assistants, at think tanks, with the State Department, and other organizations including the United States Conference of Catholic Bishops, Pax Christi, Faith in Public Life, the Catholic Worker, and many more
About NETWORK
A national network of social justice advocates, NETWORK educates, organizes and lobbies for economic and social transformation. Founded in 1971 by Catholic sisters in the progressive spirit of Vatican II, NETWORK works to shape federal policies to be consistent with our values. We work to "Mend the Gaps" in income and wealth disparity and work to create a society and economy of inclusion.
While rooted in Catholic Social Justice, NETWORK is open to all who share our passion for justice. Staff and members are people from a variety of religious and nonreligious backgrounds. As an organization and workplace, NETWORK values work-life balance and strives to be a supportive workplace environment where staff embrace the "Sister-Spirit" of our founders by rooting our understanding in encounter, not ideology; prioritizing the well-being of others; seeing everyone as people first, not just roles; and using humor and being feisty in order to be bold and willing to do the unpopular. We value women's leadership, and we engage in ongoing work to be a multicultural anti-racist organization.
The Associate Program taught me how to be a feisty advocate for justice amid a very difficult political landscape. I now feel confident in my ability to lobby on the Hill and speak about a range of federal issue areas.
Siena Ruggeri, 2018-2019 Government Relations Associate