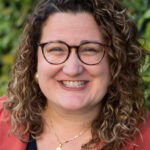 Jennifer Owens-Jofré, PhD, is a Catholic theologian whose academic writing has appeared in the Journal of Feminist Studies in Religion, Journal of Hispanic/Latino Theology, Anglican Theological Review, and the International Journal of Practical Theology. Currently, Dr. Owens-Jofré is crafting a manuscript based on her dissertation research with lay Latina Catholic leaders at Dolores Mission Parish, the working title of which is Taking Up la Virgen's Mantle: A Theology of Accompaniment (Convivium Press, forthcoming). She co-edited From the Pews in the Back: Young Women and Catholicism (Liturgical Press, 2009), and her popular pieces can be found at Commonweal, the Political Theology Network, and America. Drawing on ministry experience in Catholic communities across the United States, Dr. Owens-Jofré also teaches in parish settings and offers professional development workshops, especially for those aiming to work with young adults, develop cultural competency skills for Hispanic ministry, and cultivate spiritual practices that root commitments to anti-racism.
What calls you to NETWORK? Where do you find inspiration in this work?
NETWORK's ongoing practices of communal action and reflection call me to this work, as does its rich history of Catholic women's leadership. Collaborating with others at NETWORK is one way to live into our baptismal commitments to be priestly, prophetic, and regal.
What do you like to do outside of NETWORK?
Spending time with loved ones
Making music
Dancing
Spending time outdoors, especially near the water.
Hometown: Cypress, California
Ancestral Place: Santa Cruz, Bolivia

';