Sister Simone Campbell, SSS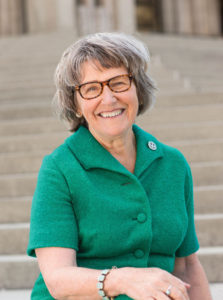 Sister Simone Campbell has served as Executive Director of NETWORK since 2004. She is a religious leader, attorney and poet with extensive experience in public policy and advocacy for systemic change.
In Washington, she lobbies on issues of economic justice, immigration reform, and healthcare.  Around the country, she is a noted speaker and educator on these public policy issues.
During the 2010 congressional debate about healthcare reform, she wrote the famous "Nuns' letter" supporting the reform bill and got 59 leaders of Catholic Sisters to sign on. This action was cited by many as critically important in passing the Affordable Care Act. She was thanked by President Obama and invited to the ceremony celebrating its being signed into law.
More recently, Sister Simone and over 7,000 other Catholic Sisters signed a second "Nuns' letter" in July of 2017 in opposition to Congressional proposals to repeal the Affordable Care Act.
The upcoming Nuns on the Bus trip (On the Road to Mar-a-Lago) is Sister Simone's sixth time leading a Nuns on the Bus trip across the country.
Follow Sister Simone on Twitter: @Sr_Simone.