Mary J. Novak, J.D., M.A.P.S.
Executive Director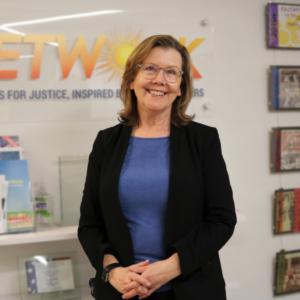 Mary Novak began serving as Executive Director of NETWORK Lobby for Catholic Social Justice in April 2021. She is a lawyer, educator, chaplain and spiritual director, restorative justice practitioner, and activist who has worked in Catholic contexts for decades.
Prior to leading NETWORK, Mary served as a Mission Integrator, and Adjunct Professor of Law at the Georgetown Law Center in Washington, D.C. In this role, she worked at the intersection of spirituality, psychology, and the work of justice, creating the conditions for law students, staff and faculty to grow in trauma-informed lawyering and pedagogy in the Ignatian Tradition.
A graduate of Santa Clara University (SCU) Law School, Mary practiced water, energy, environmental, and natural resources law, and served on teams pursuing capital appeals for men on California's death row, first at Orrick, Herrington & Sutcliffe and then at Ellison & Schneider. After serving as a member of the Clinical Law Faculty at SCU's East San Jose Community Law Center, Mary later served as Director for Faculty Development in what is now SCU's Ignatian Center for Jesuit Education.
Mary studied theology and spirituality at SCU and Washington Theological Union (WTU), earning a Masters of Arts in Pastoral Studies. She has served pastorally, including as a spiritual director, in hospitals and universities for two decades. After studying peacebuilding at Eastern Mennonite University's Center for Justice and Peacebuilding, Mary focused her final project at WTU on Catholic Peacebuilding learning circle processes from the Maryknoll Sisters in the context of Kenya's post-election reconciliation.  Upon returning to the U.S., she served the Leadership Conference of Women Religious as they navigated the Doctrinal Assessment with the Vatican's Congregation for the Doctrine of the Faith.
From 2014-2020, Mary served as the founding Chair of the Board of the Catholic Mobilizing Network (CMN) which is part of the Congregation of St. Joseph Mission Network and she continues to serve as Board Secretary. Mary's leadership helped grow CMN into a strong and stable non-profit working to end the use of the death penalty and promote restorative justice.
After her formative experience with the Congregation of St. Joseph (CSJ), Mary made her lifetime commitment as an Associate in 2019. She finds the CSJ community and its charism of unifying love a constant source of support, inspiration and wisdom.
Follow Mary Novak on Twitter at @maryjnovak.