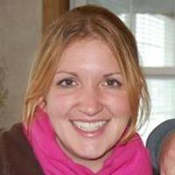 Membership Coordinator
Hadley is NETWORK's Membership Coordinator, which means she is the official keeper of our member database. Hadley makes it easy to create ongoing relationships with our thousands of supporters, because we have member data that is streamlined and organized. Because of her work, we are able to keep members educated about the federal social justice issues so they are able to advocate for real change. Hadley gained her skills from working on electoral campaigns all over the country and two non-profits abroad, Village Network Africa and Hearthstone in Haiti. She has a B.A. in Linguistics from The Ohio State University and a Master's in Politics, Economics, and Business from Claremont University.
Where she finds inspiration for work:
helping NETWORK maximize its capacity to do good social justice work
helping NETWORK members utilize our resources
What she loves outside of NETWORK:
her kids and husband
politics
Originally from: Born in Atlanta; grew up in New York; moved to Ohio as a teenager
Why she likes DC: She likes D.C. because there are so many passionate people here.