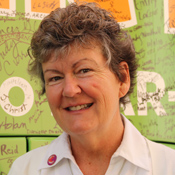 Grassroots Mobilization Specialist
Sister Mary Ellen Lacy works to build relationships with Catholic sisters and NETWORK members across the country to educate, organize, and lobby for the common good. Sister Mary Ellen has served as a public housing attorney, an immigration attorney, a NETWORK lobbyist, a registered nurse, a nursing home administrator, and healthcare attorney.
Where she finds inspiration for work:
• St Vincent DePaul and St. Louise de Marillac, the founders of her order, the Daughters of Charity. Sister Mary Ellen says: "I have learned, from them, to see the face of Christ in those who suffer from poverty. When I see our Lord suffering, how can I fail to act? Our political system inflicts injustices upon those with less money and power and it can seem as if they have been deemed less valuable. I cannot imagine waking up to this reality and remaining silent. When I encounter Jesus in His Kingdom, I don't want to be a stranger. I want Him to recognize me as one of those who stood by and fought for Him in this world. "
• She also loves to work with younger people who are stepping up to fix problems they had no hand in making. They do so because they are moral, they are just, and they are good. They give her hope and inspiration.
What she loves outside of NETWORK:
• "Is there something outside of NETWORK?"
• Mary Ellen loves to spend time outdoors, pray, be with family and friends in community, and draw
Originally from: Mary Ellen grew up in Chicago, IL. She has lived in Downers Grove IL, Milwaukee, WI, Mobile, Al, Nashville, TN, Brooklyn, NY, Bladensburg, MD, Evansville, IN, and St. Louis, MO.
Why she likes D.C.: The energy!