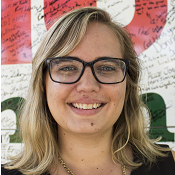 Communications Manager
Ashley is NETWORK's Communications Manager. She leads message development and media strategy to highlight the work of NETWORK, our activists, and partners in their advocacy efforts to mend the gaps. Ashley has been at NETWORK since 2012, and has implemented email and digital strategy, created campaigns and resources to educate the community of activists, and served as immigration lead during the 2012-2013 push for comprehensive immigration reform. She has traveled to 28 states with NETWORK's Nuns on the Bus trips.
Ashley graduated from St. Joseph's University, a Jesuit school in Philadelphia, with a degree in Political Science and minors in Sociology and Faith Justice Studies. During college she worked in the Faith Justice Institute to coordinate service-learning opportunities for students, served as President of SJU Students for Workers' Rights, and volunteered with LIFT-Philadelphia and the Philadelphia Committee to End Homelessness.
Ashley is an active member of Contemplative Leaders in Action, and a member of the National Advisory Committee of the Ignatian Solidarity Network.
Where she finds inspiration for work:
• Connecting with people on Twitter!
• Conversations with Catholic Sisters
What she loves outside of NETWORK:
• Gardening
• Discussing Oscar-nominated movies
• Quoting most lines from Harry Potter and the West Wing
Originally from: Martinsville, New Jersey
Why she likes D.C.: It is exciting living in the city where our nation's laws are created! She also enjoys the DC biking community and being able to visit the monuments and museums anytime she wants.
Follow her on Twitter: @APdubs