NETWORK on the Scene: Care Not Cuts Rally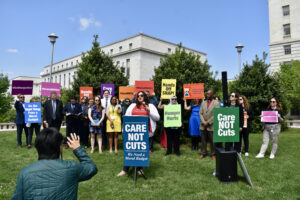 It seems like Congress moves slowly then all at once; the Congressional Budget was no exception to this rule. With only a few days to plan faith leaders, service providers, and advocates joined Congresswoman Rosa DeLauro (CT-3) in holding a rally and press conference opposing the House budget plan. With over 40 groups in attendance at the Care Not Cuts rally, it was one of the most robust crowds I have seen in my time at NETWORK.  
As budget negotiations continue onto the next chamber, people of faith urge the Senate to say no to racial inequity, child poverty, and toll that this budget will take on our economy. Below are a few highlights from our speakers.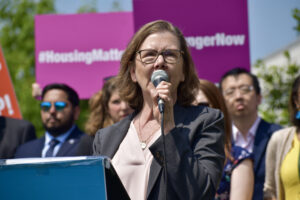 "Whether we are Black, Brown, or white, urban or rural, everyone deserves health care, housing, and food! While thoughtful conversations about deficit reduction may be reasonable, it is immoral to take food out of the mouths of children, force families into homelessness, and arbitrarily end health care for the most vulnerable. If proponents of these cuts really cared about the deficit, they would raise taxes on the ultra-wealthy and corporations rather than hurting the workers and families." – Mary J. Novak, NETWORK Lobby for Catholic Social Justice's Executive Director. 
"These cuts would stop the IRS from collecting the taxes that billionaires already owe. … We say stop the instant recession that these cuts would bring. I can tell you that the nation really does want this." -Debbie Weinstein, Coalition on Human Needs 
"They do not want us to know our neighbors, to see their humanity. … The rhetoric and cuts behind this bill is nothing new." — Samuel M. Chu, Mazon 
Join Us In Our Work – Attend an In-Person Rally
Justice-seekers nationwide are coming together to protect vital human needs programs that our neighbors need to thrive. Join us for events in New York, Ohio, and Pennsylvania.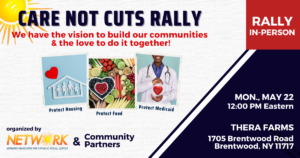 Long Island, NY
May 22 at 12:00 PM Eastern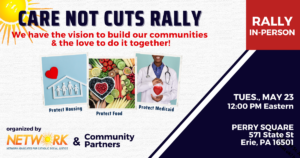 Erie, PA
May 23 at 12:00 PM Eastern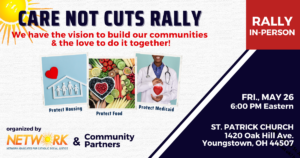 Youngstown, OH
May 23 at 12:00 PM Eastern