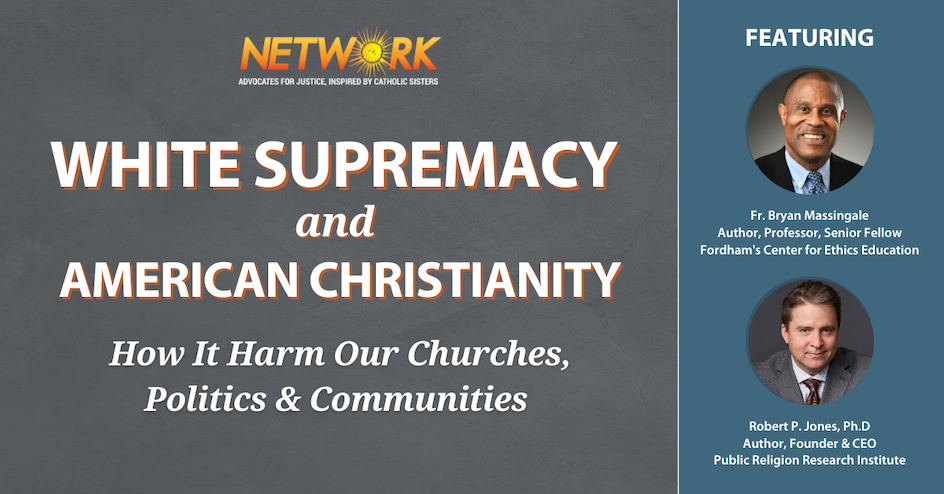 Celebrating 50 years of working for justice.
White Supremacy and American Christianity
Saturday, April 9, 2022
12:30-3:30 PM Eastern/9:30 AM-12:30 PM Pacific
A virtual, half day conference
Haga clic aquí para registrarse en español
Schedule 
12:30 PM – Opening & Keynote Conversation
2:00 PM – Small Group Conversations (closed to registrants as of March 16)
3:00 PM – Closing Remarks & Prayer
UPDATE: Although we've reached capacity for small group conversations,
you can still register to watch the Opening & Keynote Conversation and Closing Remarks & Prayer
About the Speakers
Robert P. Jones, Ph.D., is the author of White Too Long: The Legacy of White Supremacy in American Christianity, which won a 2021 American Book Award. He is the founder and CEO of the Public Religion Research Institute (PRRI), a nonpartisan organization dedicated to conducting independent research at the intersection of religion, culture, and politics. He also writes a weekly #WhiteTooLong newsletter at robertpjones.substack.com, which provides ongoing reflections and resources for those dedicated to the work of truth-telling, repair, and healing from the legacy of white supremacy in American Christianity.
Fr. Bryan Massingale, S.T.D., is the author of Racial Justice and the Catholic Church and the James and Nancy Buckman Professor of Theological and Social Ethics, as well as the Senior Ethics Fellow in Fordham's Center for Ethics Education. Fr. Massingale is a noted authority on social and racial justice issues, particularly in Catholic spaces. His writing has been featured in U.S. Catholic, America, and National Catholic Reporter, and he has held numerous leadership positions and consultancies with organizations like the United States Conference of Catholic Bishops, Black Catholic Theological Symposium, National Black Catholic Congress, and the Catholic Theological Society of America. 
Marcia Chatelain, Ph.D., is the winner of the 2021 Pulitzer Prize in History for her book Franchise: The Golden Arches in Black America. She is a professor of history and African American studies at Georgetown University and the leading organizer behind the #FergusonSyllabus, an online educational resource that has shaped educational conversations about racism and police brutality since 2014. 
Bay Area Conference of Religious, Associates, Affiliates, and Friends
Center for Faith, Justice, and Reconciliation 
Columban Center for Advocacy and Outreach 
Comboni Missionary Sisters  
Congregation of Divine Providence, Melbourne, Kentucky 
Congregation of St. Joseph 
Dominican Sisters of Peace  
Faith in Public Life 
Indiana Catholic Conference 
Leadership Conference of Women Religious  
Maryknoll Office for Global Concerns  
Maryknoll Office for Global Concerns  
National Black Sisters Conference
Pax Christi USA  
Pax Christi USA (Ambassador of Peace)  
Presbyterian Church (USA), Office of Public Witness  
Presbyterian Mission Racial Equity & Women's Ministries, African American Intercultural Support Office 
Social Action Linking Together (SALT)  
Sisters of Charity of New York  
Sisters of Mercy of the Americas, Institute Justice Team 
Sisters of Mercy of the Americas, Institute Office of Anti-Racism and Racial Equity 
Sisters of Providence, Saint Mary-of-the-Woods, Indiana  
Sisters of St. Francis, Clinton, Iowa 
Sisters of St. Joseph of Chestnut Hill, Pennsylvania  
Sisters of the Living Word
Sisters of the Precious Blood 
Sisters of the Presentation, BVM  
University of Notre Dame, Center for Social Concerns 
U.S. Federation of the Sisters of St. Joseph 
Ursuline Sisters of Cleveland