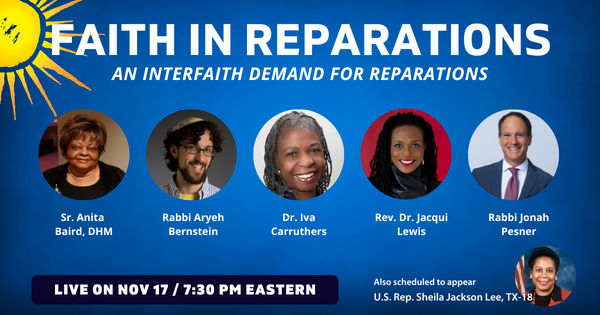 You've Seen the Conversation, Now What Can You Do?
Here's an action to take after watching Faith in Reparations
Tell President Biden
NOW is the time to sign an executive order for a reparations commission.
Watch Faith in Reparations Again...and Share it with Friends and Family
Faith Speaker Bios
Sister Anita Baird, DHM
Sr. Anita is a member of the Religious Congregation of the Society of the Daughters of the Heart of Mary having served as Regional Superior, Provincial Councilor, and most recently as United States Provincial. A trail blazer and history maker, Sister Anita became the first African American to serve as Chief of Staff to the Archbishop of Chicago in 1997. In 2000, Cardinal Francis George appointed her the founding director of the Archdiocese of Chicago's Office for Racial Justice. 
She is a past president of the National Black Sisters' Conference,  and recipient of the organization's Harriet Tubman "Moses of Her People" Award. Since 2001, Anita has traveled the country preaching at parish revivals, directing retreats, and presenting anti-racism workshops.   
Rabbi Aryeh Bernstein
Rabbi Aryeh Bernstein has written and taught extensively about the case for slavery reparations in Torah and Rabbinic literature, including in a 2018 article, "The Torah Case for Reparations". Aryeh is a fifth-generation Chicago South Sider who works as National Jewish Educator for Avodah and Educational Consultant for the Jewish Council on Urban Affairs. 
Aryeh is a Senior Editor of Jewschool.com and a member of the Tzedek Lab. Aryeh studied at several institutions of higher rabbinical studies and was ordained by Rabbi Daniel Landes's Yashrut Institute.
Dr. Iva Carruthers
Dr. Iva E. Carruthers is General Secretary of the Samuel DeWitt Proctor Conference (SDPC), an interdenominational organization within the African American faith tradition focused on justice and equity issues. SDPC is both a 501c3 and United Nations Non-Governmental Organization (NGO). As founding CEO and a trustee of SDPC, she has steered the organization as a unique, influential and esteemed network of faith based advocates and activists, clergy and lay. Former director of the Black Theology Project, Dr. Carruthers has a long history of teaching, engagement in community development initiatives and social justice ministry, fostering interdenominational and interfaith dialogue and leading study tours for the university and church throughout in the United States, Caribbean, South America and Africa.
Dr. Carruthers is Professor Emeritus and former Chairperson of the Sociology Department at Northeastern Illinois University and was founding President of Nexus Unlimited, an information and educational technology firm. She was appointed to the White House Advisory Council on the internet, "National Information Infrastructure", Mega Project and the educational software she developed was awarded a ComputerWorld Smithsonian Award. She is also founder of Lois House, an urban retreat center, Chicago, Illinois.
Rev. Dr. Jacqui Lewis 
The Rev. Dr. Jacqui Lewis—Author, Activist, and Public Theologian—is the Senior Minister at Middle Collegiate Church, a multiracial, welcoming, and inclusive congregation in New York City that is driven by Love. Period. Jacqui is the author of several books, including her latest: Fierce Love: A Bold Path to Ferocious Courage and Rule Breaking Kindness That Can Heal the World. Jacqui earned her Master of Divinity from Princeton Theological Seminary and earned a M.Phil. and a Ph.D. in Psychology and Religion from Drew University. Ordained in the Presbyterian Church (USA), she is the first African American and first woman senior minister in the Collegiate Church of New York, which was founded in 1628.
Middle Church and Jacqui have been featured in media such as The TODAY Show; Good Morning America; The Takeaway; The Brian Lehrer Show; and in The Washington Post, The New York Times, and The Wall Street Journal. Her podcasts include Love.Period., which is produced by the Center for Action and Contemplation, and The Four—a fearsome faith foursome talking about Black Life, Love, Power and Joy, with Otis Moss III, Lisa Sharon Harper and Michael-Ray Mathews. 
Rabbi Jonah Pesner
Rabbi Jonah Dov Pesner serves as the Director of the Religious Action Center of Reform Judaism. He has led the Religious Action Center since 2015. Rabbi Pesner also serves as Senior Vice President of the Union for Reform Judaism, a position to which he was appointed to in 2011. Named one of the most influential rabbis in America by Newsweek magazine, he is an inspirational leader and tireless advocate for social justice. 
Rabbi Pesner's work has focused on encouraging Jewish communities to reach across lines of race, class, and faith in campaigns for social justice. In 2006, he founded Just Congregations (now incorporated into the Religious Action Center), which engaged clergy, professional, and volunteer leaders in interfaith efforts in pursuit of social justice. Rabbi Pesner was a primary leader in the successful Massachusetts campaign for health care access that has provided health care coverage to hundreds of thousands and which became a nationwide model for reform. Over the course of his career, he has also led and supported campaigns for racial justice, economic opportunity, immigration reform, LGBTQ equality, human rights, and a variety of other causes. He is dedicated to building bridges to collectively confront anti-Semitism, Islamophobia, and other forms of hate and bigotry.