In a world of growing economic disparity and increasing individualism, we call for federal policies that dismantle systemic racism, eliminate the wealth and income gap, improve the wellbeing of our communities, and allow all people to thrive — especially those most often left out: women, people of color, people on the economic margins, and those at the intersections of these identities.
Emerging from encounter with families and communities across the United States, the Build Anew Agenda is a pathway to realizing our vision of a just and inclusive society.
Cornerstones to Build Our Country Anew
Dismantle Systemic Racism
Cultivate Inclusive Community
Root Our Economy in Solidarity
Transform Our Politics
Policy Areas to Build Our Country Anew
We build our country anew by prioritizing racial equity, caring for the Earth, and improving
the wellbeing of all people and communities through legislative advocacy for: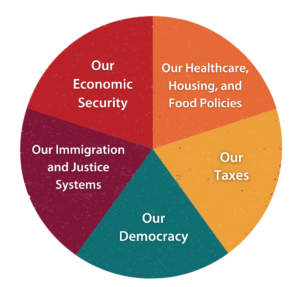 Despite our divisions, we proclaim that all people in the United States, together, make up one single community. Pope Francis says, "Hope would have us recognize that there is always a way out, that we can always redirect our steps, that we can always do something to solve our problems." In this hope, we can, and we must, build anew.