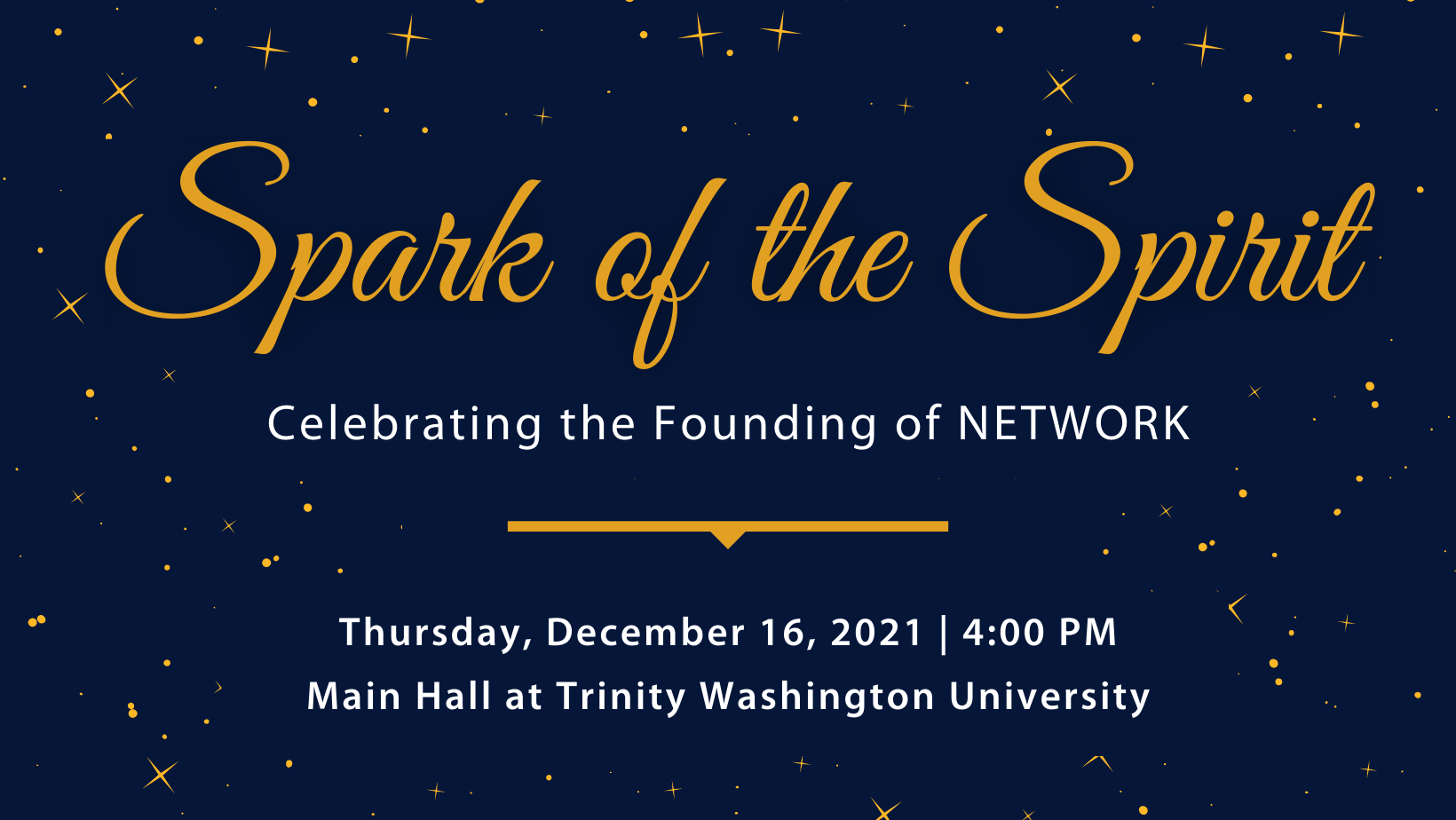 Fifty years ago in December, 47 Catholic Sisters gathered in Washington, D.C. and the spark that would become NETWORK was ignited.
We invite you to celebrate this historic moment of NETWORK's founding at Trinity Washington University, where that momentous meeting was held. Please join us at Trinity Washington University on Thursday, December 16 for cocktails and light fare from 4:00-6:00pm.
*This event will be held outdoors under a tent. If you have any ADA questions, needs, or requirements please reach out to Kristin Schol at kschol@networklobby.org.
RSVP by Friday, December 3.
Additional Event Information
Location
Guests are encouraged to arrive starting at 4:00 PM at Trinity Washington University Main Hall.
Main Hall
111 Michigan Avenue, NE
Washington, DC 20017
Bathrooms will be inside Main Hall (please wear a mask), beyond the check-in point you will be guided outside to an open, tented area for the celebrations.
Event Details
Our program will promptly start at 5:00 PM.
We will be outside under a tent, please dress appropriately for the weather.
Mask Mandate
Everyone (including fully vaccinated people) must wear masks in indoor public settings. This includes inside space at Trinity Washington University. For additional guidelines, please visit DC Health Mask Guidance.
Parking
On Campus: There are several parking lots on campus at the Trinity Center Parking locations. You may find street parking on Michigan Avenue, be mindful of adhering to parking signs.
Drop Offs
The horseshoe driveway can accommodate any drop offs or picks. We discourage idling cars in order to keep the traffic flowing.
 Transportation
The Trinity metro shuttle runs from the Brookland station (Red Line) to campus between 7:30 AM and 6:45 PM. Take the shuttle to stop 5 in front of Main Hall. Learn more here.
DC MetroBus run the Crosstown Line (H2/H3/H4), and the North Capitol Street Line (80), to and from Trinity Washington University campus to the Brookland-CUA station
Vaccine Status
Trinity requires all guests, staff and students to be vaccinated to be on campus.
ADA
If you have any special needs or requirements please email Kristin Schol at kschol@networklobby.org.
---
Find out what other 50th Anniversary events are coming up: www.networklobby.org/50thAnniversary.