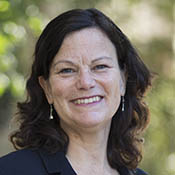 Chief Lobbyist
Laura is one of our lobbyists, and her job is to develop and execute strategies to advance our agenda on Capitol Hill and with the Administration. Her work and analysis are necessary for the approach our government relations team has on Capitol Hill. Laura learned her skills and expertise from being a lobbyist for 11 years prior to coming to NETWORK and teaching high school government and history for nine years. She began her career at the Democratic National Committee. Laura has her undergraduate degree in History from San Jose State University and a law degree from the Washington College of Law at American University. Additionally, she has her teaching credentials from George Mason University.
Where she finds inspiration for work:
creating a better world for her daughters
this work impacts real people
being a part of the NETWORK community
What she loves outside of NETWORK:
her family and friends are most important
inspiring young people to long for justice
Originally from: San Francisco
Why she likes D.C.: D.C. is a beautiful place and important work goes on here.