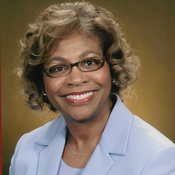 Strategic Advisor and Senior Government Relations Fellow
Joan provides strategic planning and organizational strategy advice to NETWORK and lobbies Congress on policy issues. She has a deep well of experience in organizational development, strategy, and management, gained over a career in the financial services and non-profit sectors. Joan has been a leader in the following positions: Executive Vice President of U.S. Operations at Catholic Relief Services including the Policy and Advocacy department, Vice President and Chief Planning Officer at Cabrini College, and President of a Retail Banking Center. Furthermore, she manages her own consulting practice that specializes in strategic planning and organizational development for non-profits, especially faith-based organizations.
Where she find inspiration for her work:
NETWORK's commitment to public policy for the common good
NETWORK's example of living the principles it advocates for
NETWORK's intentional efforts to create space for voices not often heard
What she loves outside of NETWORK:
books
stimulating conversation
helping others to discover how to be more effective and successful, professionally and personally
Originally from: Chicago
Why she likes D.C.: Because the city is filled with history and influence.