At a Critical Time, NETWORK Advocates for Healthcare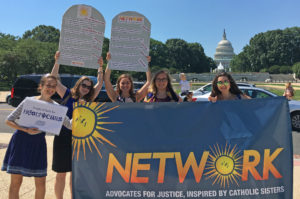 Last week, NETWORK joined members of Congress, healthcare advocates, and members of the faith community at a rally for healthcare outside the Senate. The collection of banners and signs in the crowd presented a colorful visual of the groups who had turned out to voice their opposition to legislation that would seek to strip coverage from the neediest Americans.
A group of mothers and children, some dressed up as super heroes, greeted speaker after speaker as they told the stories of a few of the 23 million people who face losing their insurance under the proposed GOP legislation. Members of the Senate's Democratic minority urged the crowd to fight reductions in Medicaid and crucial aspects of the ACA and made forceful appeals to moderate Republicans to reject the legislation.
The stories from the rally were on my mind when the all-white, all-male Republican healthcare working group released the Senate bill Thursday. Unsurprisingly but still disappointingly, the "Better Care Reconciliation Act" is just as damaging as the AHCA.
These bills would take us back as a country and sacrifice the needs of the sick, the elderly, and children to give tax breaks to the wealthiest Americans. The Republican plan to dismantle the health care for millions of Americans does nothing to address existing problems with our current healthcare system and would exacerbate inequities in health coverage and access.
The faith community has a special role to play in resisting "TrumpCare," as it is uniquely positioned to lift up the values of people of faith in the context of political decisions that will impact ordinary people. NETWORK is part of an interfaith coalition leading communities of faith across the country in lobbying members of Congress to protect the lives of those who depend on Medicaid and all whose healthcare is threatened by this legislation.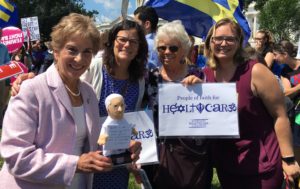 At the rally, NETWORK carried a small likeness of Pope Francis. Our little pope held a sign that said "Health is not a consumer good but a universal right, so access to health services cannot be a privilege." This reflects Pope Francis' constant reminders to live and act in a way that reflects the mutuality of all people.
It is our responsibility to take up Pope Francis's challenge to seek the Kingdom of God on earth by fighting for policies that uphold the dignity of all people, particularly those at the margins of society. Together with people of faith across the country, we are standing up for healthcare and opposing a healthcare bill that takes from millions to give to the few.
Lily Ryan is a summer intern with the NETWORK Communications team.