Sister Mary Ellen Lacy, DC
October 31, 2018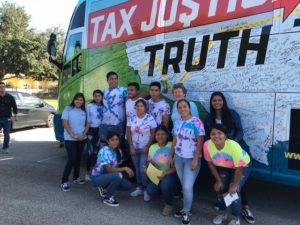 On this beautiful, sunny day, we rolled into Apopka, Florida to visit the Hope CommUnity Center. Hope CommUnity Center is a service learning community dedicated to the empowerment of Central Florida's immigrant and working poor communities through Education, Advocacy and Spiritual Growth.
When we stepped off the bus, we were greeted by a throng of joyful young people who were holding justice-advocacy signs in the shape of mariposas (butterflies).  Sr. Ann Kendrick, the Director of the Center, asked the young people to take us by the hand as they led us to the Campesino Gardens. Salvador, a six foot  young man took my hand and as we walked, he shared his desire for immigration justice.  At the Gardens, we saw that people of color can access fresh food and engage in respect and reaping the earth's bounty.
We then proceeded to the Center's main building, where the signs were placed in the front of a room and we were invited to sit.  Sr. Ann emceed the conversational portion of the visit and we learned of the various services provided at the center.  We were treated to a visual rendition of the plight of DACA (Deferred action for Childhood Arrivals) recipients performed by local teens.  Their humble, raw emotion was profound and their displayed experiences were jarring. My heart broke as these young people taught us so much about the trauma of rejection and parental abandonment by deportation.  Still, I felt joy because they were able to deal with unjust pain in a creative, honest and hope filled way.  In that sense, we should all be so blessed.
The Center also provides social services for aspiring immigrants, students and unaccompanied minors. They partner with several local businesses to empower the immigrants they serve. For instance, we learned about the credit union that accepted good character as collateral instead of possessions and the health clinic that treated everyone with dignity.
Hope CommUnity Center has created a community that values every person and restores the dignity that God intended for all of us to live.  Hope Center is precisely what it claims to be.
Afterwards, we held a press conference where Sister Simone summarized the visit.  Sr. Beth LeValley, a Sister of St. Joseph, shared her impressions of the holy ground upon which we stood.  Other members of the community reiterated their programs and dreams for an equitable economy.  Everyone was struck by the compassion, collaboration and community that the Hope Center displayed.
After the speech portion was over, the young people found creative means to sign the bus. Everything these kids did or said was founded in hope and joy.  As we drove away, I was happy to know that the next generation coming up is going to be proud, joy filled and creative. They are going to need to be.
View more photos from this event here.