Travel Log: Lobby Visit and Rally – Rep. Mike Coffman, Aurora, CO
Sister Anna Loop, SL
October 15, 2018
At 9am on October 15, a gaggle of folks came together outside of Representative Mike Coffman's office to speak about NETWORK and Nuns on the Bus's focus on "reasonable revenue for responsible programs." Nuns on the Bus is on the road again to talk to people about tax cuts which primarily benefit wealthy persons and will definitely hurt the most vulnerable people among us.
The rally preceding our meeting with Mike Coffman was spirited and, led by Sr. Simone, included brief sharing from three people: Selihom Andarge, a Regis University student; Sally Wolf of Society of St. Vincent de Paul Voice of the Poor; and Rachel Wall, who spoke about healthcare and pre-existing conditions.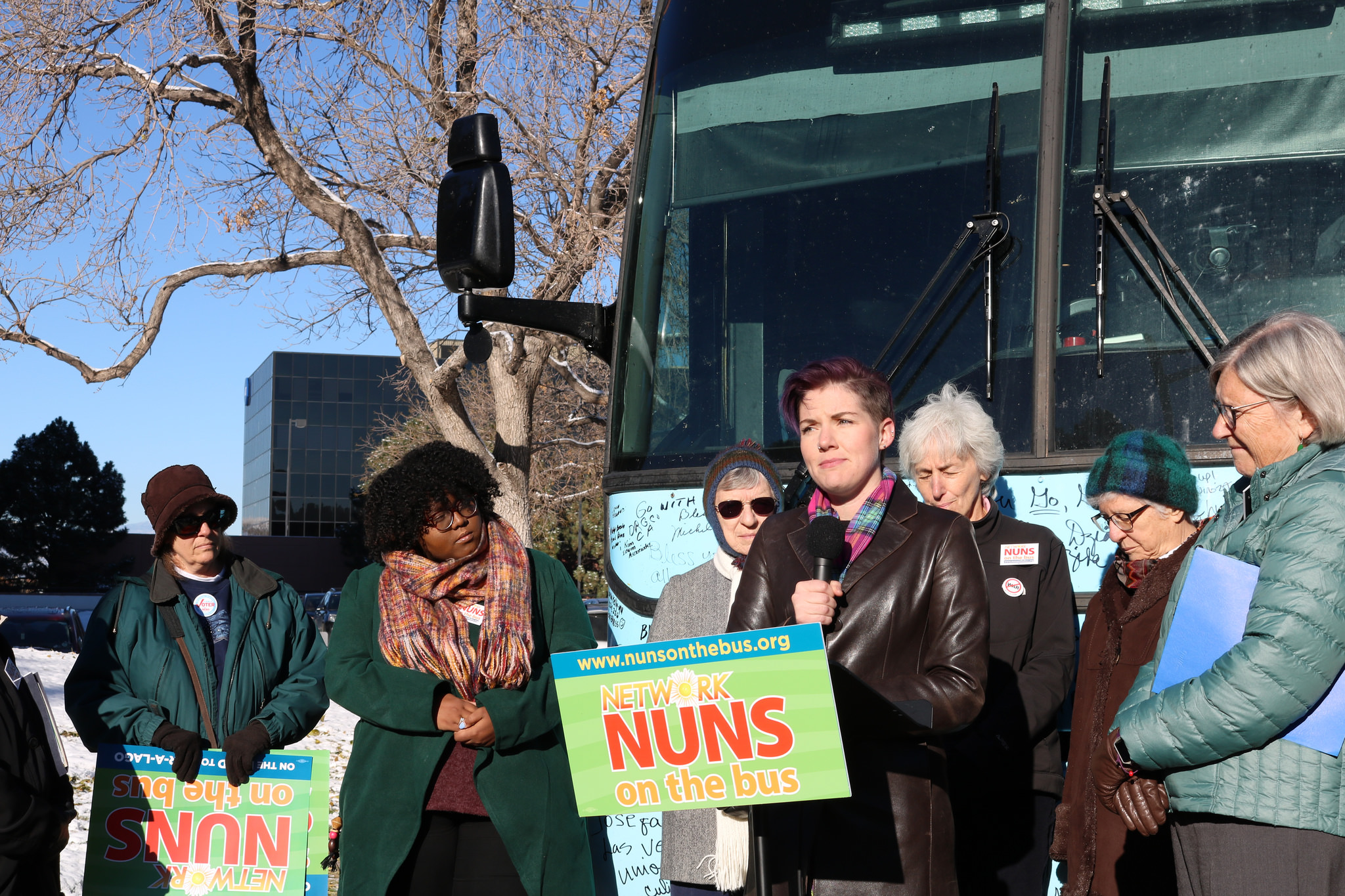 Following the rally, Selihom, Rachel, Sr.Simone and Sisters Liz Fuhr and myself went up to meet with congressman Mike Coffman.. We were met at the door with the announcement that only four people would be allowed in to the meeting, though we had definitely been told that five was the number. There was no way to hold them to their original agreement, and so Sr. Liz Fuhr dropped out of the circle.
Selihom, Rachel and Sr. Anna gave moving testimony as to the consequences of tax cuts in the areas of student aid, health care and housing. None of this had much impact on Mike Coffman, who insisted that he had not seen programs being cut. Sr. Simone had several exchanges with Congressman Coffman; in each case he showed his lack of analysis related to program cutbacks. The congressman gave many examples of the good things coming out of Congress and initiatives in his district. The meeting was congenial, but not exceptionally productive.
Following the meeting, the bus headed off to Omaha – the next stop on the tour. We wish them all happy travels and fruitful meetings as they move across the country, concluding their tour in Mar-A-Lago with a big "Fiesta for the Common Good."