Show Your Support for Nuns on the Bus 2020
We need your help to make our first-ever virtual Nuns on the Bus trip a success! Below you will find materials that can be used to publicize Nuns on the Bus and invite others to our virtual events. All of our virtual events are "open to all," though some Town Halls are designed especially for residents of a certain city or state. Site Visits, Dialogues Across Geographic Divides, and Rallies will be live streamed for anyone, anywhere in the U.S., or around the world, to watch!
Spread the word!
Flyers: we have created flyers for all public events. Go to www.nunsonthebus.org/events to view the table. Under "Flyer," click on "Download" next to your event to download your flyer.  You are also welcome to use the tools on this page to create your own promotional materials.
Social Media: We need your help getting the word out on social media! Below, find sample tweets and social media posts. Click here for a full social media toolkits with additional social media posts and graphics for use on Facebook, Twitter, and email. If you are interested in receiving updates and amplifying events on social media or via email throughout the tour, please sign up to be a member of the Digital Amplification Team.
Sample #1
Ahead of #Election2020, #NunsontheBus is zooming into 16 states and holding national rallies for health care, democracy, and more! You don't want to miss these virtual bus events! RSVP: www.nunsonthebus.org/events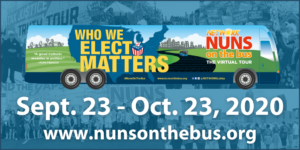 Download.
Sample #2
@Sr_Simone and the #NunsontheBus are going on the road — virtually — to lift up the moral urgency of being a multi-issue voter in #Election2020. With more than 50 digital events across the country, be sure to join this movement! Who We Elect Matters! www.nunsonthebus.org/events 
Show the world that you're with the Nuns!
Show your support on Facebook: Add a Nuns on the Bus 2020 Frame to your Facebook profile picture. There are 4 designs to choose from, by searching "Nuns on the Bus." See more detailed instructions.

Show your support on Zoom: If your technology allows, download Nuns on the Bus virtual Zoom backgrounds to show that you're a Spirit-filled voter during our Town Hall events! Read more about setting up a virtual background from Zoom.
Shop the Nuns on the Bus Store: Pick out your own merchandise and apparel from our 2020 virtual Nuns on the Bus tour and wear it with pride! Shop: www.nunsonthebus.org/store
Help us promote:
Logos: you are welcome to use the following logos when sending Nuns on the Bus materials and information out to your community: (click on each to download a full-sized version)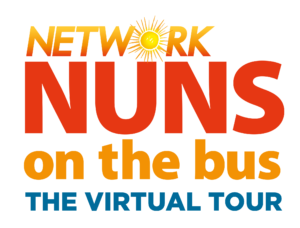 Sample Language: Below and is sample language that you can use for a bulletin insert or a promotional email. If you would like anything customized or need something additional, please contact NETWORK.
In 2020, We The People face consequential decisions about how to respond to a global health crisis as well as racism and white supremacy, xenophobia, and economic inequality in our nation. These are difficult times, but there are reasons for hope. 
Join Nuns on the Bus at a virtual event this year to look ahead towards our upcoming federal election and prepare to be a multi-issue voter.
Be a part of their virtual [event type, place]: [event details]

For more information, go to www.nunsonthebus.org.