Sister Mumbi Kigutha, CPPS
October 18, 2018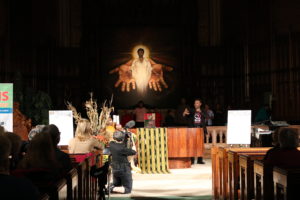 From the outside, St. Sabina's looks like any other church built early in the century. That, however, quickly changes the minute you walk through the doors. Your eyes are immediately drawn to a huge picture of a Black Jesus with his hands outstretched in welcome behind the altar. This church is all about preaching Christ's message and living out His gospel values, and anyone who knows St. Sabina's will attest to that fact.
Hospitable, smiling and hopeful faces welcomed us into this space and the tone of the evening was set by the youth choir who lifted up their voices and spirits in a beautiful rendition of Glory by Common. This song was particularly meaningful and appropriate as it was written for the movie "Selma."
The struggle against oppressive structures and policies still continues many years after Selma. The poor are getting poorer, as elected officials choose to reward themselves and their cronies by creating policies that benefit themselves and them only. 
The people who attended the Nuns on the Bus Town Hall in Chicago are tired of the status quo and are wiling to work for change. This commitment was apparent as the audience represented people from different Chicago neighborhoods, but also a woman who had flown in from New York specifically to attend the event. A Sister had returned to Chicago early from a visit home to Cincinnati in order to participate in the gathering. Women and men had given their week night to come, learn, and share about how concerned citizens can unite to restore justice, hope and morality in their society.
The Republican tax bill and its ensuing effects are sinful, immoral, and reprehensible. Tp begin, today the lowest earners in the U.S. are in a worse-off position than they were 36 years ago. The rich have gotten richer while the majority of the nations inhabitants are teetering on the verge of poverty. 
Martin Luther King reminds us that, "Capitalism does not permit an even flow of economic resources. With this system, a small privileged few are rich beyond conscience, and almost all others are doomed to be poor at some level. That's the way the system works. And since we know that the system will not change the rules, we are going to have to change the system." This is the reason why the Nuns are on the Bus and this is why everyone eligible to vote must do so, and then hold their elected officials accountable for the rest of their time in office. 
View additional photos from this event here.