Sister Mary Ellen Gondeck, CSJ
October 19, 2018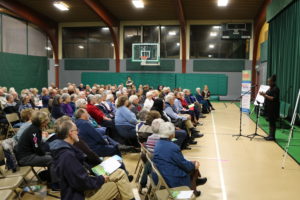 When we arrived to our Town Hall for Tax Justice in East Lansing, the gymnasium was full of very enthusiastic supporters of Nuns on the Bus. There were members of a number of congregations in the East Lansing area and a number of denominations.  There were some who traveled from as far away as Kalamazoo, and others from near-by communities. 
We presented our Nuns on the Bus explanation of the economic inequality in our society, showing how it will only be made worse by the new tax law passed in 2017.  The responses of the group brought forward some ideas that had not expressed in other sessions.  During the discussion time, a number of "problems" the policy causes in Michigan included: the increase of violence, fear, and poor education for our children.  Solutions included the necessity to vote and help get out the vote, and the need to diminish the military budget.
Our message of Tax Justice was very well received and the participants in East Lansing were enthusiastic and creative in their responses about how to work for the common good.
View more photos from this event here.