Build Anew: A Justice Agenda for All of Us
During Lent, we encourage members of the NETWORK community to join us in reflecting and acting on a topic together. For Lent 2021, our weekly resources will introduce NETWORK's Build Anew policy agenda.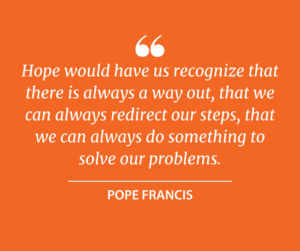 In a world of growing economic disparity and increasing individualism, we call for federal policies that dismantle systemic racism, eliminate the wealth and income gap, improve the well-being of our communities, and allow all people to thrive — especially those most often left out: women, people of color, and people on the economic margins.
Emerging from encounter with families and communities across the United States, the Build Anew Agenda is a pathway to realizing our vision of a just and inclusive society.
This Lenten guide will explore how our issue areas relate to the four Cornerstones to Build our Country Anew: Dismantling Systemic Racism, Cultivating Inclusive Community, Rooting Our Economy in Solidarity, and Transforming Our Politics. During each week of Lent, we will email reflections, prayers, and actions to educate NETWORK members on the issue areas and get them excited about advocacy in the new administration and Congress.
Join us this Lent to explore what it will take to build new structures that demand justice for all, and grow as Spirit-filled advocates.