Travel Log: Philadelphia and Pleasantville
Sister Margaret McGuirk, OP
October 25, 2018
Our day began as usual with contemplative prayer and sharing. At the end, Sister Betsy looked at her hotel key card and it said, "Passion Moves Us."  This became our inspiration for the day and with a resounding "Amen," we packed up our bags and were on the road again.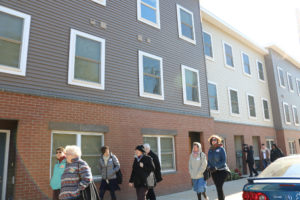 The Women's Community Revitalization Project (WCRP) in Philadelphia was our first stop.  It is an amazing example of a dream realized through the work of a community committed to justice. Nora Lichtash, Executive Director, said that they brought together a coalition of sixty-two organizations and out of this emerged the WCRP. Their mission is to build permanently affordable housing and serve women and families. Pastor Richard Harris told how the neighborhood was deteriorating and there was land left vacant for 30 years.  The city had insufficient affordable housing and people living under bridges and struggling with the opioid addiction. Christi Clarke, Organizing Director, gave us a tour of new buildings of the Grace Town Homes – Community Land Trust. One of the beautiful parts of this tour was to learn how many persons with disabilities have made this place their home.  The event ended with a press conference where Congressman Brendan Boyle joined us. He spoke of his commitment to the common good. His voting record is aligned with NETWORK's "Mend the Gaps" agenda and we were touched to learn that his vote while he was a member of the Pennsylvania state legislature made a difference in making this project possible.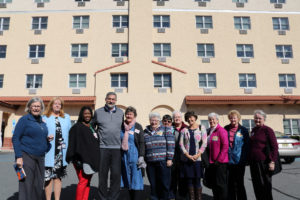 Our second stop was the Village at St. Peter's in Pleasantville which is low-income housing sponsored by the Catholic Archdiocese of Camden. Jamie Reynolds, Executive Director, gave us a tour and invited us to a meal with the residents. It was a delightful time to interact with the residents and experience the spirit of welcome and conviviality that they have created at this apartment complex. It was delightful when one of the men who does maintenance stood on a chair and led us in a blessing before the meal. We invited the seniors to come out to the bus and many of them did.  Both here and at WCRP, it was evident how investing in the lives of those who are marginalized can turn darkness to light.