Reflection: Connecting with Other Sisters
Sister Larretta Rivera-Williams, RSM
July 16, 2016
"Excuse me, do the sisters take turns driving the bus?" Sarah Spengeman, our Grassroots Mobilization Manager, laughs and then responds, "No, we have a professional driver, Bill."
Years ago Bill was on tour with Elvis Presley.  When Bill is not driving the bus for Anthony Williams, Mary J. Blidge, Fantasia, Maxwell, or Justin Beber he is driving Nuns on the Bus. Conversations with Bill are enjoyable and interesting!
Today, Bill is driving us from Fort Wayne, Indiana to Toledo, Ohio. Thus far, we have travelled more than a thousand miles, visited seven different ministries, have now crossed into our fifth state, and met several hundred people.
My vocation as a Religious Sister of Mercy has been reaffirmed. This call and commitment to serve God's people, to seek justice for God's people, has been echoed by those I am traveling with. We all agree that witnessing to Gospel values and staying strong to Pope Francis' call of love and service, continues to be the role of Religious Woman in the 21st Century.
Our morning prayer, the impromptu bus discussions, and our evening transition conversations are rich! We have all been touched spiritually and emotionally by the passionate stories we have heard.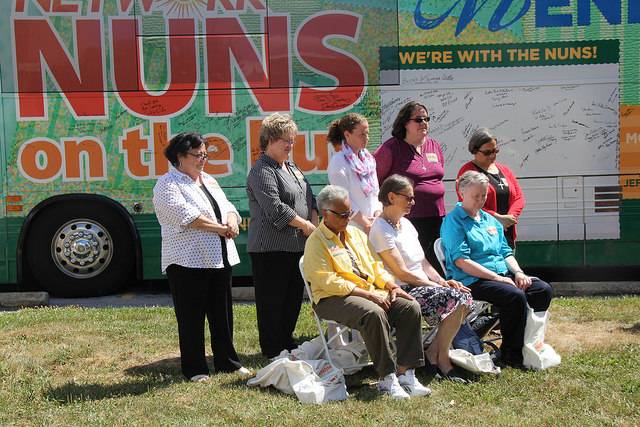 Presently, I am the only Mercy on the bus. The nine of us have formed community with ease; already knowing we will miss each other after next week. We represent the Sisters of St. Agnes, the Comboni Missionary Sisters, the Dominicans, the Religious Sisters of Mercy of the Americas, the Sisters of St. Joseph of Peace, Sisters of Social Services, and the Ursuline Sisters.  We are modeling that we can pull together to achieve the possible; charism, age, and culture should not alter God's plan for peace and love.
Perhaps, our different ministries are not in the trenches of despair with the people we have met. I am sure, however, that their faces and stories are forever carved in our minds.
After Toledo our journey continues to Cleveland, Ohio for the Republican National Convention.  Please pray for everyone headed to Cleveland; a special prayer for Nuns on the Bus and our professional driver, Bill!