Sister Mary Ellen Gondeck, CSJ
October 19, 2018
We arrived at the Old Courthouse in South Bend welcomed by a wonderful group of people whose umbrellas were being put to good use because of the rain pouring down. 
Sister Robbie Pentecost, OSF led the group in a welcoming prayer and message of gratitude for those who waited so long for the bus to arrive.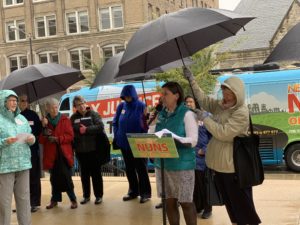 Jessica Brock, a former NETWORK staff member spoke about the focus of NETWORK and the importance of NETWORK's mission in the reality in which we find ourselves.  Her message stressed the importance of working together for the sake of the common good and understanding that the Constitution says "We The People." She believes that we need to operate out of that value, rather than as individuals looking after ourselves.
Cheryl Ashe, from Faith in St. Joseph's County, shared her story of her struggles with asthma and the need for her to have affordable health insurance.  It is important to cover pre-existing conditions, but she said, there needs to be some regulation on the amount that insurance companies can charge for premiums.
Cassie Walker-Sleman a mother who advocates with Little Lobbyists shared the story of her 4-year-old son Bruce who was born prematurely. Bruce's life depends on therapy and prescriptions that would be unaffordable for her family without access to affordable healthcare.
Sister Simone underscored the importance of voting and reminded all who had gathered  that we need to hold our representatives accountable since we are the constituents who put them in office.
Father Ed Reutz sent us off with a moving blessing and prayer for the continuing work of the Nuns on the Bus in making the Gospel message a reality in our world.
View more photos from this event here.