Sisters Eileen Reilly, SSND and Richelle Friedman, PBVM
July 23, 2016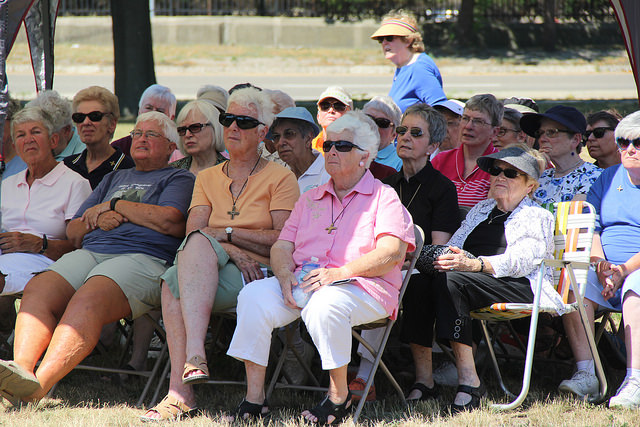 Eileen, enthusiastically announced we just entered her home state of Massachusetts as we crossed the state line this morning. We soon found ourselves warmly welcomed to the rally on the lawn of Boston College High School. "Warmly" is putting it mildly: as the temperature rose into the 90's the huge crowd that had gathered moved their chairs under the awnings we provided or under the nearby trees.  Although dispersed across the lawn, the crowd of a couple of hundred people was engaged and enthusiastic as we presented our "Close the Gap" program.
As always we begin with some local people sharing the stories of the gaps they experience and the steps they are taking to close them.
Sharon has volunteered for 35 years at Haley House where services include job training and housing done with mutual respect for those they serve. Job training included creating the Bakery House Café, host of the delicious lunch we enjoyed.
Reverend Ellen Fifth, herself disabled, is an untiring advocate for access for those with disabilities.
Peter Buck put a face on Equal Exchange that works to bring products from worker cooperatives in Central America to the global market guaranteeing a profit to farmers thus mending the wage gap for these coop farmers.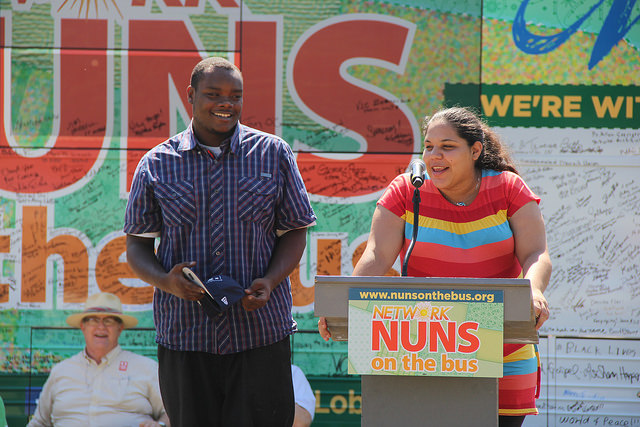 The "Fight for $15" campaign shared the story of working for a living wage – and hopefully in the future a $15 an hour wage. We loved the 'can do' attitude of Darius and Rita engaged in the 'Fight for $15.' Said Darius, "We deserve better than working 3-4 jobs and not seeing our kids."
We Nuns on the Bus take turns speaking at the various events, and since we were in Eileen's hometown, she was happy to be one of the speakers, sharing why we ride the bus and what we are learning. In Eileen's words "It was great to share the event with family, high school classmates, friends and many nuns I knew from my days in Boston."
We Nuns on the Bus often comment that we receive more than we give. The speakers in Boston gave us hope as they work to be inclusive, creative and loving in their approaches to the work they do.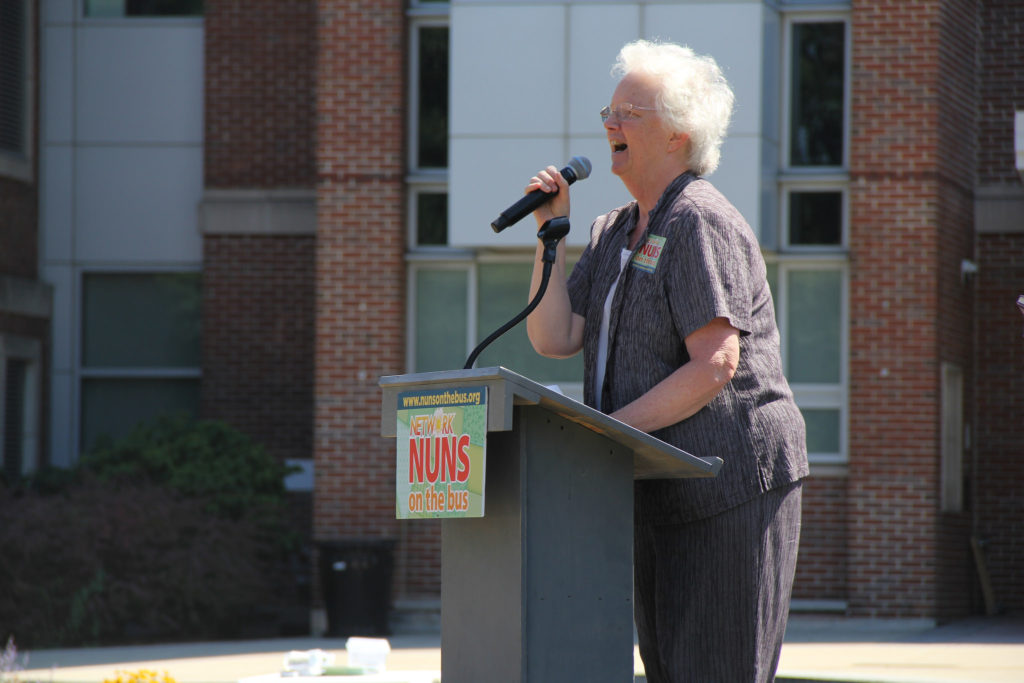 See Also:
Slideshow: Boston Rally