Travel Log: Madison Pre-Launch Blessing
Sister Bernadine Karge, OP
July 11, 2016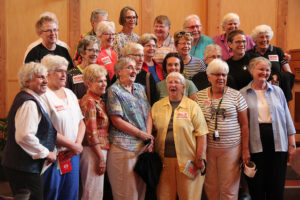 Rev. Schuler of First Unitarian Society, welcomed more than 300 people and the NETWORK Nuns on the Bus 2016 on a warm sultry night in Madison, Wisconsin.  The beautiful First Unitarian Society was filled with energy and excitement  as we launched the Mend the Gaps theme for this pre-election time.
Rev. Schuler asked that the scales fall from our eyes as we focus on the  seven areas of inequality in our world in 2016: , Tax credits, livng wages, a family friendly workplace, access to healthcare, access to housing, access to democracy (voting rights) and access to citizenship (immigrant rights).
Two sisters introduced the two buzz questions:  When did you first vote and for whom did you vote?  Who in your family is difficult to speak with about politics? The room roared with laughter, tears, and serious  conversation as we engaged on the first step of mending the gaps which touch our lives and those around us.
Lynne and Jini MacAdam told the story of  Jini's sister, Margaret, who died four years ago. Margaret was a strong independent private woman who had various jobs throughout her life. When Margaret lost her job, she  lost her health insurance and then  lost her life. The Affordable Care Act had passed but it was not  yet implemented.  When  a friend finally got Margaret to the ER, she was diagnosed with 4th stage cancer.  Lacking resources, Margaret was not able to get the treatment she needed.  Lynne traveled to  Cincinnati to see Margaret and asked her to take her picture in her Wisconsin 14 shirt that Lynne had brought to her.  In the midst of her vulnerablility, Margaret agreed to have her picture shared  in order to help others get  the help they need.  Margaret the  fiercely, painfully private  person opened herseld to be seen, to be known. In 2012, Lynne gave Margaret's photo to Sr. Simone two hours after Margaret's memorial service at a Nuns on the Bus stop in Cincinnati. Margaret's presence stenghtens us in the struggle for universal healthcare for all as a pro-life issue.  The expansion of Medicaid coverage in all 50 states is what is needed now. In this time of crisis of compassion, Lynne and Jini thanked Sr. Simone for helping heal their family in their sorrow and grief.
A sense of  gratitude pervaded the evening. Rabbi Renee Bauer offered a prayer for the journey, not only for the Nuns on the Bus, but for all U.S. Americans in this time of grief and crisis of compassion in our country.  The conditions outside the yellow tape need to be mended to bring our country to wholeness and oneness.  Rev. Stephen Marsh of Madison Urban Ministry gave the final blessing and sending us forth in the name of justice and Jesus.
Pledge cards were enthusiastically signed, turned in and the bus  signing commenced.   We had time to mingle, mix and bless each other as we venture forth out of our comfort zone to Mend the Gaps!
Click to watch the slideshow: