Travel Log: Philadelphia (Day 3)
Sisters Janet Kinney, CSJ and Eileen Reilly, SSND
July 28, 2016
Today marks the last day of the convention. Hard to believe these days are drawing to a close.
"Old St. Joseph Church" in central Philly was the site for a liturgy that we attended Thursday morning. The church prides itself on being the oldest Catholic Church in Philly. Jesuits began celebrating liturgy there in the 1700's when religious liberty was still a dream for many of the original thirteen colonies.
Father Phil, the pastor spoke of the parish as always being a place where religious liberty and all are protected, encouraging those present to be earthen vessels, shaped by God to serve one another.
The liturgy drew on the best of our Catholic tradition. We were invited to pray for our nation, for world peace, for justice and fairness.  (No candidate's names were mentioned!) Once again, we were surprised at the name recognition for Nuns on the Bus.
We continued our "lemonade ministry," often surprising passers-by with an offer of free lemonade and leading to some great conversations about hopes and fears for this election cycle.
Our afternoon workshop drew a really diverse group of participants – including many local nuns, "Mrs. Georgia," (complete with a tiara) and her four daughters, a few local health center employees who were on their lunch break and lobbyists for the teachers union.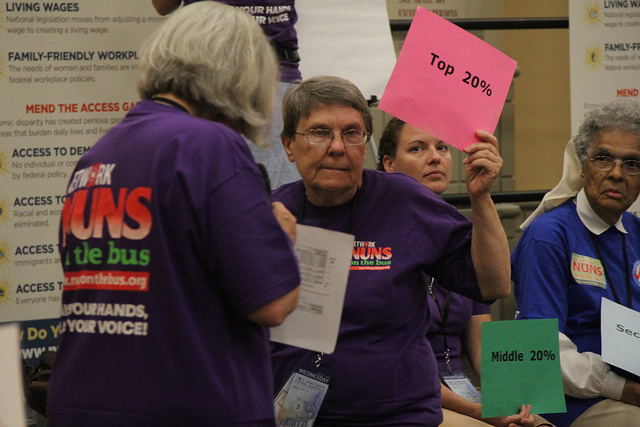 One component of our workshop is a "Human Bar Graph," where we sisters pace off the steps that represent the wealth of each quintile of our population. The nun representing the top 20% got to take twelve steps forward to represent the 60% that their incomes have grown over the past forty years.  However, since I represented the bottom 20% I have to take two steps backward to represent that this group's income has actually decreased almost 10% in the past forty years.  When we broke it down further to the top 5% and then the top 1% the figures were staggering.
Then it was off to the Wells Fargo Arena; security was high and seats were quickly filled by 5pm.   I met Congressman Joe Crowley and his son Sean as I waited on the food line! We listened to Governor Andrew Cuomo, were moved by the delegation of women Senators, were stirred by the words of Rev. Barber, and were entertained by Carole King and Katie Perry, among others on the night's line up.
The crowd was pumped by the time Chelsea Clinton made her way to the podium speaking lovingly about her upbringing by her mother Hillary and the example of her grandmother, Dorothy Rodham. After a video of Hillary's life, Hillary entered from a center stage. The moment had come to accept the Democratic party's nomination of her as their candidate for this year's presidential election.
Hillary accepted the nomination with 'humility, determination, and boundless confidence in America's promise' taking her place as the first woman to lead a major presidential ticket on a night pulsating with emotion. 'When there are no ceilings,' she declared, 'the sky is the limit.'
It was wonderful to be in the arena for this historic moment, as balloons and confetti showered us and fireworks were set off from both sides of the stage. It almost felt surreal to be there!
Although very tired after these long days, it was hard to settle into sleep after such an exhilarating night – but we did!
These have been unbelievable days as a Nun on the Bus and will long be savored. We feel blessed to have journeyed with some incredible religious women who are incredible witnesses to the gospel message of Jesus. And we were buoyed by the hardworking men and women we met in all the cities and eight states we travelled – people who still believe and have hope for the future of our country and want to be active participants in defining its future. These days will be long remembered!
See also:
Reflection: Witnessing History in the Making
Slideshow: DNC Lemonade Ministry
Slideshow: DNC Workshops