Sisters Eileen Reilly, SSND and Richelle Friedman, PBVM
July 23, 2016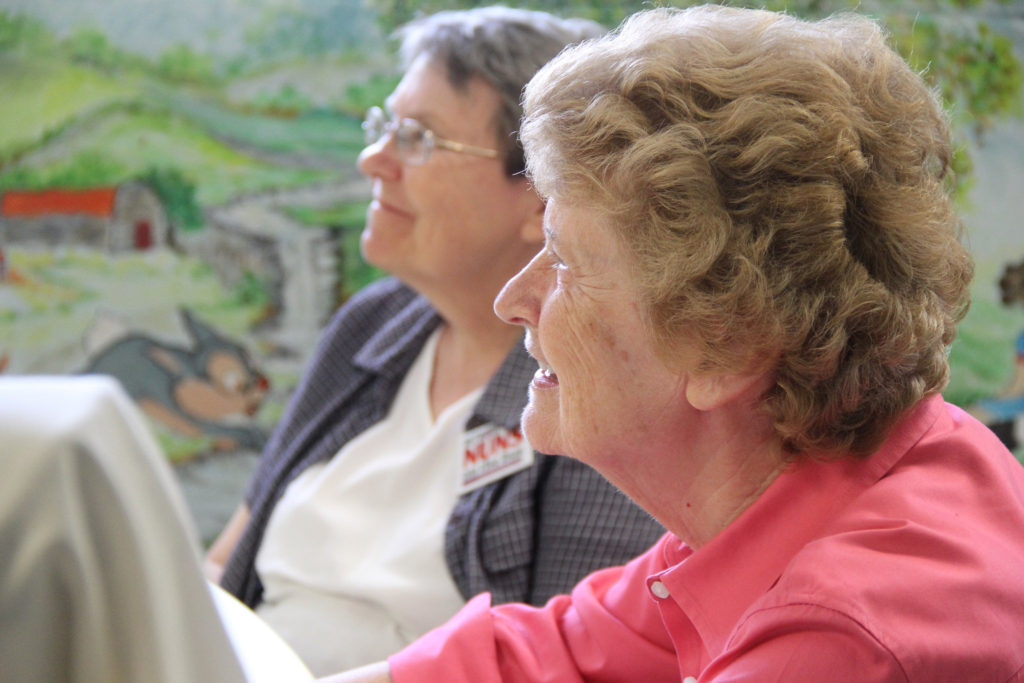 On Saturday afternoon, we headed to Providence where we had three events planned for this afternoon and evening.
Our first stop was McAuley Village founded by the Sisters of Mercy. We were privileged to hear the stories of the women in transitional housing who expressed deep gratitude to the staff there for their support, love, patience and help in navigating the educational, housing and service systems.
One person singled out for her kindness was Sr. Joan with phrases like, "If I didn't have someone like Sr. Joan I don't know where I'd be…. This woman is so beautiful…. She is so awesome." One middle school young boy came over and gave Sr. Joan a warm hug before he left the room. The program includes two other sites – McAuley House where meals are served and hospitality offered and the Ward-robe which is a volunteer-supported thrift store offering quality used clothing and household goods.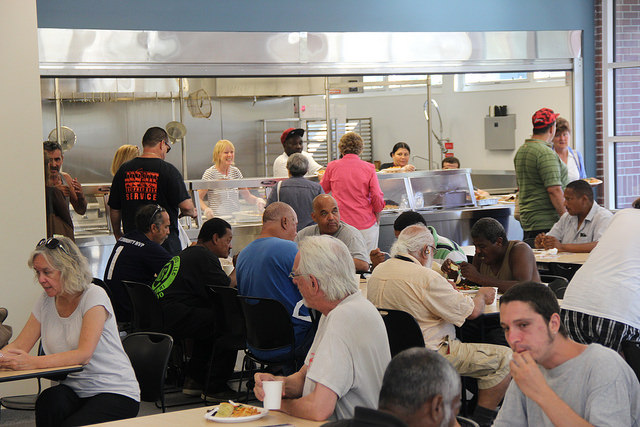 We had supper at Amos House which is celebrating "Forty Years of Helping People Help Themselves." Their campus of fourteen buildings includes a restaurant, supportive housing, a mother-child reunification center, a ninety day recovery program, as well as job and literacy training. The sparking new dining area with its entire wall of windows made for a bright and inviting space. We were struck by how grateful those we sat with were for the meal they'd received. Some were residents of one of Amos House's transitional or supportive housing units and some came in from the streets. Tyler spoke with pride about marking his third month of being clean.  Another man asked me to pray with him since his wife had just died.  As we ended the prayer, one of the other men said, "I think some of that rubbed off on me."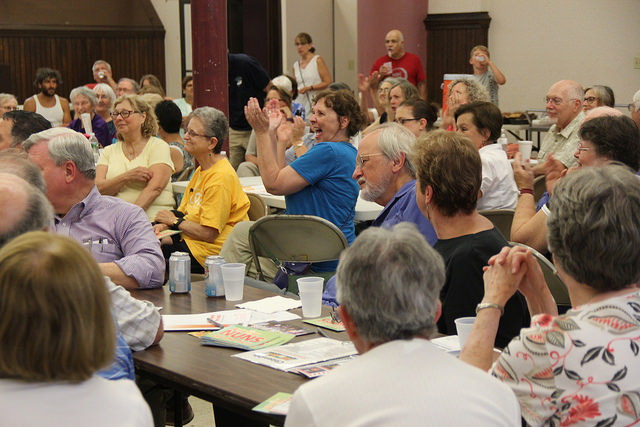 A big event of our days is a two-hour caucus wherein participants grapple with the NOTB mend the gap issues. When we arrived at St. Michael's parish in Providence we were greeted by the tune of When the Saints go Marching In by the Extraordinary Rendition Band.  It seems this band shows up at rallies, demonstrations, and events like ours to add some spirit. They successfully managed to bring new energy to us who were showing signs of weariness after a long day.
The caucus of over 100 first talked about areas problematic to Providence and Rhode Island. Among the issues they raised were a recent defending of mental services, poverty in the schools as indicated by a 97% rate of kids eligible for free and reduced lunches, a legislature where too much power is concentrated in the hands of the Speaker of the House, and the list went on. The best part of the caucuses is when small groups are asked to talk about what it would look like if those problems with were addressed. After their visions for a better future are shared, a sense of hope fills the room.
At each of the events those gathered pledge to do their part to create a better reality and are invited to sign the bus. The bus is ready to move on with the nuns and the thousands we take with us that we've met and who have signed the bus.
See also:
Slideshow: McAuley Ministries (Providence) Site Visit
Slideshow: Amos House
Slideshow: Providence Caucus