Travel Log: RNC Prayer Breakfast (Cleveland)
Sister Mary Ellen Lacy, DC
July 19, 2016
This morning, day two of the RNC, we started with a Prayer Breakfast, to which we had invited all of the delegates we talked to yesterday. Our hosts for the multi-faith service were the United Church of Christ in Cleveland, who also honored us with their lavish hospitality while we performed our street ministry yesterday. We had decided to use Ezekiel's "dry bones" reading in a nouveau lectio divina fashion, reading the bible passage numerous times, with a few short reflections between readings.
I was one of the reflectors.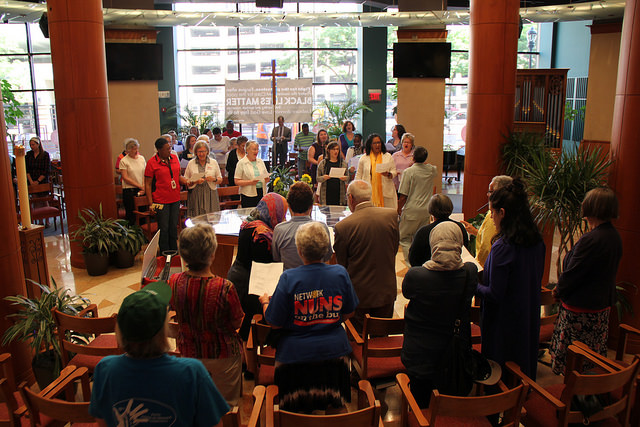 I told the people assembled that the reading reminded me of a time I spoke with a Director at the Public Housing Authority. I called to inquire about the status of a client's Housing Choice Voucher packet.  She said to me, "Oh, it was processed already and it is at the front desk. …I think it is at the front desk."  She momentarily questioned.  "At least, I believe it to be there.  Let's do this Sister: I am gonna speak it into existence. It is at the front desk." Yay, God!
This interaction reflects what God tells us in Ezekiel's valley of dry bones. We are called to prophesy of the hope of God.  As we travel throughout the country, we ask people to walk amongst their dwindling dry dreams of economic, social and moral equality so that we can explore ways to mend the economic gaps.  We ask folks to continue to dialog long after we leave.  Their verbal hope will inspire others to forecast with courage.  Someday, the emboldened talk in our family rooms will drift into board rooms and then on to Congressional committee rooms.  God's plan will be made manifest.  So, like the Director at the Housing Authority, we can speak our beliefs into existence.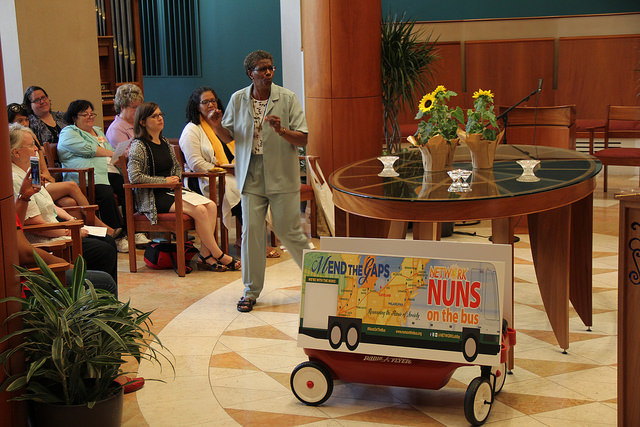 After the prayer service. we talked with the many religious people gathered to pray for the cause of common good in politics. As I looked around the room, I noted that I was standing with my United Church of Christ, Muslim, Catholic, Lutheran and various Protestant brothers and sisters.  The United Church of Christ generously welcomed all comers.  I prayed for this kind of welcoming hospitality for everyone in our nation.
Then we headed for the bus for our trip out of Cleveland. The second leg of the trip begins today, as we now head toward the Democratic National Convention. First stop: Erie Pennsylvania!
See also:
Slideshow: Cleveland Prayer Breakfast