Back to Stories
Amanda Monroe - Albany, New York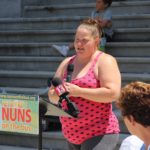 Amanda has been involved in the Fight for 15 for the last two years.
She's been struggling since before she joined the Fight for 15- she was making minimum wage and it has only become harder in the last couple years. She has two children and tries to remain optimistic- "positivity rocks on!" She's still standing and fighting strong for her two children.
She knows that the Nuns on the Bus, and any of us, can see poverty all around us by driving down the street and visiting homeless shelters.