Back to Stories
Ellen Frith - Boston, Massachusetts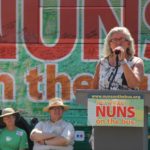 Rev. Ellen Frith, an interfaith ordained minister, helped to create Sojourner House (which allowed families to have their sons over the age of 12 live with them) and works with those experiencing unemployment and homelessness.
She comes from an "sufficient" economic situation, but today is in a different place due to her decision to stand up and speak up.
She identifies herself as a person with a disability, and points out that even at the Nuns on the Bus social justice rally doesn't have a ramp up to the podium. She shares about how they re-dedicated the chapel at Harvard divinity school because it wasn't accessible to people with disabilities. When they did the renovation, her friend with a disability looked out over the congregation and said, "Each and every one of you, if you live long enough, will become a person with a disability, so you'd better start thinking about it now."
Her experience of the gaps began in 2007 when she began taking photos of violations for people with disabilities that the police didn't enforce. Due to this she has been arrested, assaulted, served a year in Framingham, lost her housing, an lost all of the things that she worked to earn throughout her life. She began her documentation in order to begin the community together to talk about issues of social justice.