Back to Stories
Kathy Flaherty - West Hartford, Connecticut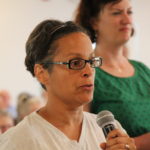 Kathy shares her concern for people with disabilities, particularly those with psychiatric labels, because they experience a lot of discrimination and often do not get the services and support they need to thrive.
She notes that we need to talk about tax justice and revenue in order to get a system that works for everyone.
She also calls attention to the issue of affordable housing. She notes that not having basic needs, like food and shelter, makes it extremely difficult to recover from mental illness and be able to thrive in the community.