Back to Stories
Stephanie Luna - Newark, New Jersey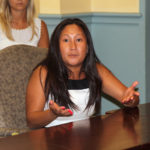 It took getting arrested at a federal level for Stephanie to get into a recovery center for treatment of her addiction.  She was put in Integrity house while she was on bail waiting for her sentence- she was supposed to spend 12 years in federal prison. While there everybody told her to "have faith, everything will be okay."  Five months into her time at Integrity house her lawyer told her about a federal opportunity program that allows her to stay out of federal prison if she completes the program.
She has been in Integrity house for 21 months. She is pursuing her career- she used to be a board certified nurse and now she is in a parallel program for nurses with addition. She goes every Monday and it will allow her to get her nursing license back, hopefully in December or January. She credits Integrity house with instilling a drive for success and she wants to take her nursing to another level- she's visited the community college and they were very supportive of her and Integrity house.
Stephanie emphasizes that Integrity house is home and that the people there are family for her and provided a community for recovery.