Support Judge Ketanji Brown Jackson's Historic Nomination to the Supreme Court!
We are celebrating!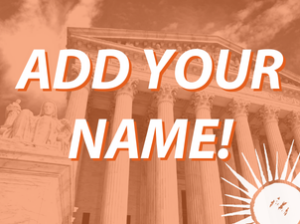 President Biden has chosen to nominate Judge Ketanji Brown Jackson for the Supreme Court. Judge Jackson is a widely respected jurist who will bring a masterful command of the law along with broad legal experience including her formative service as a public defender to the bench. After graduating from Harvard University and Harvard Law School, Judge Jackson clerked for judges at every level of the federal judiciary, including former Associate Justice Stephen Breyer on the U.S. Supreme Court, and served as a federal public defender. Judge Jackson is an outstanding nominee for Supreme Court, and the Senate should move forward with a fair and timely confirmation and hearing. 
The time to act is now.
This sign on letter is now closed, please stay tuned for additional ways to support Judge Jackson's nomination!