People Over Profits: Chancellor Merkel Must Release the Vaccine
Andrew Stokely
July 16, 2021
On a typically hot and muggy July morning this week, I headed into downtown Washington, D.C., with a first stop at the historic Lafayette Square by the White House. But I wasn't there for sightseeing.
Instead, I watched as activists and protestors displayed body bags on the street and launched a giant balloon of Angela Merkel's likeness.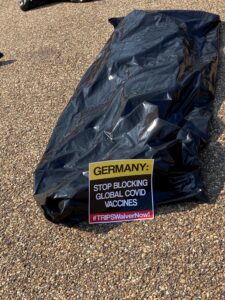 It was all part of a movement to protest a decision by Merkel, the German chancellor, to oppose Covid-19 vaccine patent waivers. Allowing the waivers is crucial to fighting the pandemic. It would increase the supply of vaccines to countries around the world, especially in places like India and Africa, where many people are suffering and dying as the virus keeps spreading. With Merkel in Washington for a meeting with President Joe Biden, now was the time to make the case for allowing the waiver.
I'm a 17-year-old rising high school senior. If you're wondering why someone like me was documenting the protest, it's because I think teens and young people can and should fight for increasing access to global vaccines and encouraging vaccinations here at home. Until the whole world is safe, none of us are safe.
Olivia Rodrigo visited the White House recently to push for young people to get vaccinated. That's a great first step, but I think it's also important for my generation to learn and remember how young activists played a major role when the HIV and AIDS epidemic became a public health crisis in the 1980s. "During the first decade of the epidemic, young activists demanded action on the epidemic and successfully advocated for radical changes to the clinical trials and drug approval processes," according to UNAIDS, an international advocacy group.
We can step up again. This time around, we have social media and we know how to help organize and mobilize protests. We could use everything from TikTok to text messages to get the word out. And just showing up in large numbers can help.
As the protest continued, activists staked out a position across the street from a nearby Johns Hopkins University building, where Merkel was being honored. When she was leaving one of the cars in the motorcade, the protesters yelled, "Release the vaccine!" and, "People are dying!" She ignored them as she went in to accept her award. I wish I could know if she heard the protestors and if she thought about what they said.
But, by the end of the day, I saw that Merkel had not changed her position. I was disappointed. But I also know that change doesn't always come as quickly as we'd like it to. I want to keep encouraging my peers to speak out about making vaccines available to everyone and the importance of getting vaccinated. I hope that the next demonstration I attend will be one that celebrates this accomplishment.
Andrew Stokely is a member of Our Lady Queen of Peace Catholic Church in Arlington, Virginia and a rising high school Senior at Washington-Liberty High School.