Update: House Negotiations on Build Back Better
Over the weekend, the House Budget Committee voted to advance the Build Back Better plan, a $3.5 trillion comprehensive infrastructure and economic recovery package, to the House Rules Committee in preparation for a full vote on the House floor. The full vote in the House could take place as soon as this week.
Watch a new NETWORK update on the budget process:
This week, the House is negotiating — and with your help, passing — the Build Back Better plan through the budget reconciliation process.  This is a critical time to pray and make your voice heard.
By un-rigging our tax code so that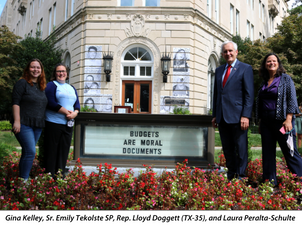 the ultra-wealthy and tax-dodging corporations pay their fair share, the Build Back Better plan will begin to reverse the persistent evil of the racial wealth gap and extreme economic inequality. It's time to pass a budget that is truly equitable and inclusive for all, regardless of background or birthplace. It's time for We the People to truly include all of us.
Call Your Representative Now: 888-738-3058
Tell them to vote Yes on the Build Back Better plan!
The House of Representatives has a choice this week: they can make childcare, health care, and housing more affordable and establish a national paid leave program OR protect tax breaks for the ultra-wealthy. Extending the Child Tax Credit alone would reduce child poverty in by almost half. With your help, Congress will vote to shape our federal policies to align more closely with our values.