NETWORK Marks LGBTQ+ Equal Pay Day
On June 15th, LGBTQ+ activists and allies are highlighting disparities the LGBTQ+ community, particularly LGBTQ+ people of color, face regarding economic security. Corporate rainbow logos and Pride month partnerships do not address the economic oppression of our LGBTQ+ siblings. The full picture of economic oppression the LGBTQ+ community is grappling with is unclear due to how under researched the community is. The preliminary data we do have outlines the situation as dire, and as more data is filled in, the situation looks worse than originally thought.
The Economic Reality
Research has found that LGBTQ+ adults in the United States, on average, fare worse economically than their straight and cisgender counterparts. According to a 2019 analysis, about one in five LGBTQ+ adults in the United States (22%) live in poverty, compared to 16% of their straight and cisgender counterparts. In particular, the poverty rates of transgender adults (29%) and cisgender bisexual women (29%) are devastatingly high. Additionally, Black (40%) and Latinx (45%) transgender adults are more likely to live in poverty than transgender people of any other race.
Additionally, the wage gap between LGBTQ+ and non-LGBTQ+ people is potentially even larger than what current statistics show, as the present analysis only includes full-time workers. Research has repeatedly found that LGBTQ+ people are more likely to be unemployed or underemployed relative to their straight and cisgender peers.
The Census Problem
In 2020, for the first time ever, the Census asked whether adults are involved in same- or opposite- sex married or unmarried partnerships. This is a necessary step to creating accurate information about the makeup of households across the country. However, the LGBTQ+ community is not limited to relationship status—but includes gender identity and sexual orientation. Activists and Members of Congress advocated for questions around these identities to be included but were denied by the Census Bureau, citing that federal data was unneeded.
This lack of information leaves an estimated 80% of adults in the LGBTQ+ community unrepresented in the Census. This exclusion is devastating to the folks and families across the country as the census determines the allocation of billions of federal funds every year. This funding helps monitor and enforce equal employment and housing opportunities, identify which populations are not getting needed medical services, and help allocate resources to programs like Medicaid, CHIP, and TANF.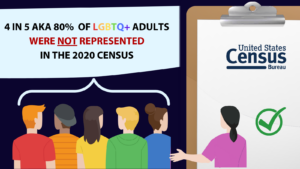 Economic Polices Rooted in Solidarity
Raising the Minimum Wage
An estimated 1,450,000 LGBT adults would see an increase in earnings by 2025 if the minimum wage were increased from $7.25 to $15 per hour. Research has also indicated that increasing the federal minimum wage to $15 per hour would reduce the proportion of male same-sex couples living in poverty by one-third and female same-sex couples by almost one-half. Additionally, raising the minimum wage is projected to produce similar reductions in poverty among LGBT people who are not in same-sex couple households, with the larger gains for those with the highest rates of poverty—Black, Latinx, bisexual, and transgender adults.
Inclusive Definitions in Paid Leave Policies
Many families include unmarried partners, extended relatives, and close loved ones who may not share a biological or legal relationship. All families should be given the same opportunities and protections under the law. Creating inclusive definitions of family in paid sick day policies and paid family and medical leave programs is essential to protecting both our LGBTQ+ families and any other families that stray from a nuclear definition—including grandparents or siblings who take on parental roles. Including chosen family in paid leave policies would ensure that LGBTQ+ families do not have to make impossible decisions between essential caretaking work and paycheck. A 2017 survey found that 32% of people reported that they took time off to provide care for a chosen family member. This rate is much higher with LGBTQ+ individuals. A 2020 survey found that 63% of LGBTQ workers (including 71% of transgender workers) reported taking time off to care for a close friend or chosen family member.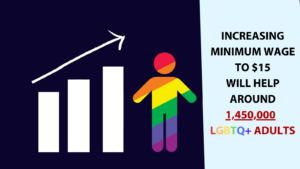 Inclusive Economy
While this Pride Month should be filled with joy, celebration, and affirmation of the beautiful identities and lives on our LGBTQ+ neighbors and loved ones—we must also be called to build a world that fully supports everyone. Currently our economy and our systems fall woefully short of inclusivity. We must collectively work towards building an economic system that does not leave people out to dry, with insurmountable obstacles in their way. There are key policy solutions we know will help us make progress towards this vision: a well-rounded and representative census, raising the minimum wage, holistic paid leave policies, and even more. This Pride Month, we recommit ourselves to celebration, solidarity, and advocacy for and with the LGBTQ+ community.