'Tis The Season… The Election Season
There's always one thing we can look forward to every four years and no, it's not the summer Olympics. I'm talking about the United States presidential election. In less than seven months, the American people will vote for their next commander in chief. Amidst everything that is happening, especially with COVID-19, who we elect matters now more than ever. This country needs a leader who will put its citizens' wellbeing, health, and safety first. We at NETWORK, understand the importance of being able to participate in such an important and historic election, so we have designed a toolkit to prepare folks for this moment.
Our election toolkit has everything you need to help assess who the right candidate is for the job. With the help of our 2020 Mend the Gaps Policy Platform, we've created a list of questions to ask a candidate at a town hall to gage how they intend to mend the gaps in our nation. Our letters to the editor (LTE) toolkit will help you produce compelling writing that will be read in both local and national newspapers. Use our "Do It Yourself Candidate Side-By-Side" to determine which Presidential, Senate and House candidate aligns closest with NETWORK's 2020 Policy Platform and your personal views. Finally, don't forget to engage with the candidates on social media using our social media pro tips.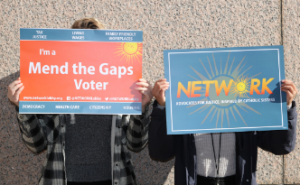 Show your commitment to being a "Mend the Gaps Voter" this Election Season with the use of NETWORK's newly created placards. Make your voice heard in person and online! Take a picture with the placards and use the hashtags #MendtheGapsVoter and #My2020Vision. Be sure to tag @NETWORKLobby as well. Whether you're at a candidate's rally, polling place, or Member of Congress's office, snap a photo of yourself with the placard.
Discover your choice candidate in our election toolkit. This is a living document that is continuously being updated to reflect what is going on in the election and adding new resources to alleviate some of the stress that comes with the voting process. Continue to check out the webpage and stay up to date by following us on social media!