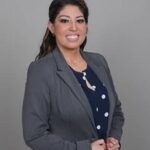 Alejandra is a native of Guatemala, she has been living in the United States over twenty years. Over the span of fifteen years, she has been working in the non-profit sector serving low-income families and working closely with the Latino Community in Lackawanna County. Some of Alejandra's recent passions are to work on issues of diversity and inclusion and access to mental health services. She works at Lackawanna County as the Adult Behavioral Health Coordinator, where she works with mental health providers. Prior to her current position, Alejandra worked at Friendship House in the children's behavioral health department. She was the Hispanic Outreach Coordinator at Catholic Social Services. Alejandra holds a bachelor's degree in Psychology from Penn State and is a social work alumna from Marywood University. She lives in Dunmore, PA.
What calls you to NETWORK? Where do you find inspiration in this work?
The mission, the policy work and the sister spirit calls me to NETWORK. I find inspiration in listening to the people I served, I also find inspiration from the IHM (Immaculate Heart of Mary, Scranton) sisters.
What do you like to do outside of NETWORK?
Reading
Gardening
Exercising
Trying out new restaurants
Hometown: Guatemala
Current Location: Dunmore, Pennsylvania

';