Nuns on the Bus: For the Media
Contact Ashley Wilson, 202-601-7856 or via email for interviews or information about Nuns on the Bus.
Sister Simone Campbell, SSS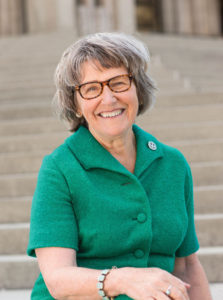 Sister Simone Campbell has served as Executive Director of NETWORK since 2004. She is a religious leader, attorney and poet with extensive experience in public policy and advocacy for systemic change. In Washington, she lobbies on issues of economic justice, immigration reform, and healthcare.  Around the country, she is a noted speaker and educator on these public policy issues.
High-Quality Photos and Video
Photos are available for download from our Flickr. Please credit NETWORK Lobby (Jennifer Wong).
Nuns on the Bus Candidate Side-by-Sides