Care for the Border
True Investment Means a Move from Militarization to Community
Briana Jansky
July 25, 2023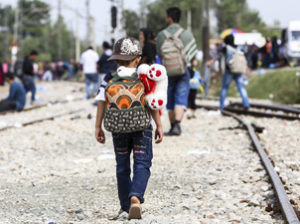 When the COVID-19 pandemic stopped the world in its path in 2020, the Trump administration used it as an excuse to prevent asylum seekers from coming through at the U.S.-Mexico border. These policies aggressively restricted access to ports of entry for those who were fleeing imminent danger. Now, three years later and with the state of emergency officially ended, migrants still face unjust policies and unethical barriers that prevent them from safely seeking asylum in the United States. 
Asylum is a necessity and a human right. In his message for the 2023 World Day of Migrants and Refugees, Pope Francis writes that "even as we work to ensure that in every case migration is the fruit of a free decision, we are called to show maximum respect for the dignity of each migrant; this entails accompanying and managing waves of immigration as best we can, constructing bridges and not walls, expanding channels for a safe and regular migration. In whatever place we decide to build our future, in the country of our birth or elsewhere, the important thing is that there always be a community ready to welcome, protect, promote and integrate everyone, without distinctions and without excluding anyone." 
In contrast to a witness like this from the world's most prominent religious leader, in the U.S., policymakers struggle to provide ethical and welcoming pathways and policies for migrant people. The U.S. government refuses to enforce the law, where asking for asylum is legal regardless of the manner of entry to the country, and continues to focus on more militarization. Increased militarization at the border continues to make life even more difficult for incredibly vulnerable people and harms the fabric of solidarity in communities. 
Policy Breakdown  
The Title 42 expulsion policy, a pandemic rule put in place by President Trump and continued under President Biden, allowed U.S. officials to swiftly turn away migrants seeking asylum at the border. While Title 42 ended on May 11, when President Biden ended the public health emergency, the Administration has expanded and enacted other policies to further attack the right to asylum, despite President Biden's promise to put an end to such practices. The new laws are the most aggressive ban on asylum the U.S. has seen in almost 30 years, preventing access to protection for migrants at the border by over 50 percent.  
A May 11 statement from 16 Catholic organizations — including NETWORK, Jesuit Refugee Service/USA, Hope Border Institute, Kino Border Initiative, Franciscan Action Network, Maryknoll Office of Global Concerns, and Pax Christi USA — gave voice to Catholic outrage over the move: 
"Through continued restrictions on asylum and the militarization of the border, the U.S. government has shut the door to many of our siblings who are calling out for help. This failure to provide welcome sends a clear message to the rest of the world that the U.S. will not keep its previous asylum promises and instead continues to turn away from those most in need," the statement said.  
The Biden administration's new rule — the "Asylum Ban" — guts current asylum law. Currently, it is legal and right for people seeking asylum to come into the U.S. and ask for asylum at the border or after crossing it and encountering any government agent. The Biden administration has superimposed the Asylum Ban onto this law.  
"The current Asylum Ban policy is set for one goal and one goal only — to keep people out. Policies supporting asylum must uphold the national and international protection norms, and this rule does not do that," says Ronnate Asirwatham, Government Relations Director at the Network.
The current rule makes setting up an appointment via app the sole means of accessing asylum in the U.S. Use of the CBO One app disproportionately affects Black, Brown and Indigenous immigrants because their access to technology is harder, and they are discriminated against three times as much as lighter skinned immigrants.  
"The proposed rule seeks to make migrants passing through other countries first claim asylum in those countries, and in most cases, especially for Black, LGBTQ+, and Indigenous immigrants, that is impossible," notes Asirwatham. "The ways in which these laws are applied target the only way that people can seek asylum and this truly affects the most vulnerable."  
"These people who are migrating are still there, and still need our help," points out Marisa Limon Garza, executive director of Las Americas Immigrant Advocacy center. "It's troubling that so many people are unclear about their path forward. We're still unclear about a lot of the logistics and what will come next."  
"In our attempt to provide fundamental humanitarian aid to those most vulnerable, our community gets policed as though we are criminals for being good Samaritans."
—Patrick Giuliani 
Many migrants face dangerous conditions in their home countries, including extortion and torture, only to be met with resistance and restraint at the border. Turning them away from safety and security doesn't make those problems go away, and deterring and detaining them only leads to a host of other issues.  
"People on the move face lots of dangers," says Mayte Elizalde, communications specialist at the Hope Border Institute. "Migrants in different countries are targets for violent attacks. In Mexico, there are reports of people being extorted by authorities."  
The Footprint of Militarization 
Instead of creating policies that result in an intricate system of oppression of human rights, the government could enforce the Immigration and Naturalization Act of 1965, which clearly states that seeking asylum is a legal right regardless of the way one enters the United States. The U.S. government could also fund and train more people to help evaluate asylum seekers' applications and assist the organizations at the border and in the interior that welcome migrants with food, water, and adequate shelter, and promote agency and well-being. The U.S. government aids detention centers significantly more, funding them up to 200 times more than organizations that are focused on serving and caring for migrants.  
In Mexico, there is a lack of transparency around the conditions of the detention centers, and the human costs are catastrophic. The sordid conditions rose to U.S. national news back in April, when 40 migrants died in a fire that broke out at a detention center in Ciudad Juárez.  
"Based on reports of the detention center in Ciudad Juárez, it showed that the center was lacking clean water, food, or hygiene products," notes Elizalde. "What happened in these detention centers was a reflection on what our immigration system does. Mexico has now become a host country and has not met the humanitarian needs of the people they have accepted to host. … The U.S. creates policies that force people to be in a country where they are not taken care of, but instead put in danger." 
It is not only detention centers outside of the U.S. that are failing to meet the basic needs of immigrants, but ones within the U.S as well. There have been repeated warnings and reports of inhumane and illegal policies and practices that take place in CBP custody, and yet the U.S. government has not done anything. In May, Anadith Alvarez, an 8-year-old Panamanian girl, died at a U.S. detention center in Texas. She was the third child to die in U.S government custody in six months.  
"These people who are migrating are still there, and still need our help."
—Marisa Limon Garza
As NETWORK lobbies Congress and the Administration to move the U.S. government away from militarization and toward building community, organizations such as the Hope Border Institute, Kino Border Initiative, and the Haitian Bridge Alliance see first-hand how current policy harms everyone.  
"We often welcome groups from all across the country to learn about the binational community at the border and what people migrating today are facing. Last year we had to complain to port officials because we noticed that students of color were being more frequently sent to secondary inspection or asked more questions, even though they were born in the U.S.," says Sr. Tracey Horan, Associate Director of Education and Advocacy for the Kino Border Initiative in Nogales, Ariz. "It is frustrating to see how my coworkers of color who cross the border regularly face more checks and interrogation both at the ports and at checkpoints in the interior."  
Patrick Giuliani, policy analyst at the Hope Border Institute in El Paso, Texas, concurs: "We see the U.S. surge resources that are used to further criminalize migrants and police not only the border but our community. In our attempt to provide fundamental humanitarian aid to those most vulnerable, our community gets policed as though we are criminals for being good Samaritans."  
Briana Jansky is a freelance writer and author from Texas.