From the Archives: NETWORK's Vision Comes to Life
Dear Friend,
This week, I am back again with another story about the people and events that made NETWORK the organization it is today. This time, we'll fast-forward to the 1990s and explore a key project from NETWORK's long history of advocating for economic justice.
Some of NETWORK's most spirited organizing and lobbying in the 1990s came in response to President Bill Clinton's "Welfare Reform." As far as NETWORK was concerned, the "reform" was an affront to the dignity of the human person, in particular, low-income families. NETWORK made sure the President and Congress knew how unjust the proposed welfare legislation was.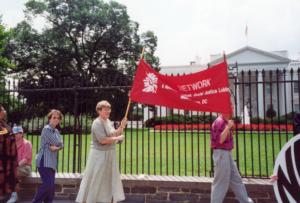 As President Clinton signed the 1996 Personal Responsibility and Work Opportunity Reconciliation Act into law, NETWORK staff, including Executive Director Sr. Kathy Thornton, RSM, marched in protest outside the White House gates.
By 1996, we were 20 years into lobbying and organizing and we knew what we had to do: form partnerships, lobby and testify before Congress, and rally at the White House. Of course, we surveyed those closest to the pain of poverty to find out what they actually needed from policy and how they'd be impacted by President Clinton's new law.
NETWORK believed the measures supported by President Clinton would make life worse for the 35 million people who struggled with poverty. NETWORK wasn't alone. The Daughters of Charity, the Sisters of Mercy, the Federation of the Sisters of St. Joseph, and Pax Christi USA joined us to form the Welfare Reform Watch Project.
Our strategy was long range and considered diverse geographical areas. The nationwide, multi-year project rigorously monitored the new legislation in order to evaluate both its effectiveness and its limitations. The first Welfare Reform Watch Project report, "Poverty Amid Plenty," was released in April 1999.
This report was the focus of NETWORK's 1999 Lobby Day on Welfare Reform. The day began with a policy seminar on Capitol Hill attended by nine members of Congress and staff from 66 Congressional offices! Then, 62 NETWORK members left to lobby more than 50 Congressional offices.
While the 1999 Lobby Day was quite successful on Capitol Hill (thanks to the 400 NETWORK members who wrote their Members of Congress inviting them to the policy seminar), there would be many more Lobby Days in the years to come. Our economic justice advocacy on the Hill continues to this day, and I look forward to many more successful lobbying efforts in the coming weeks, months, and years.
This essay is part of a collection shared by NETWORK historian, Dr. Mara D. Rutten, to celebrate our 50th anniversary. To read more from the archives, click the links below.
Read From the Archives: NETWORK's Vision Comes to Life
Read From the Archives: Spirit at Work from the Beginning