Travel Log: Cedar Rapids Day 1
Sister Quincy Howard, OP
October 16, 2018
In the evening, we arrived at Mount Mercy University in Cedar Rapids and were warmly welcomed by the Mercy Sisters there.  After collecting our bags, winding through the empty college library (students are away for fall break), shuffling through an emergency door (setting off the alarm), we found our rooms and grabbed a quick bite to eat with the resident sisters.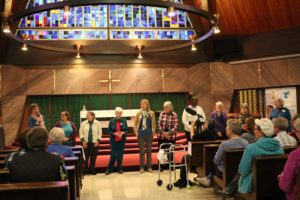 We gathered at the beautiful chapel for our Town Hall for Justice and I was thrilled to be greeted by three of my own Dominican Sisters who had traveled from the Dubuque area to attend. The second cohort of Nuns on the Bus Sisters for the trip had the chance to participate their debut Town Hall event for a crowd of about 75 people.  After we demonstrated how economic inequality has been amplified by our nation's tax policies since the 1980's, Sister Simone opened it up for conversation.  There was lots of engagement in the small discussion groups, but when she began asking folks to share, the crowd was more subdued— Nuns on the Bus has definitely arrived in the Midwest!
With a little cajoling some wonderful ideas emerged about how to encourage friends and neighbors to vote. Those who shared helped us understand just how important it is for Iowans to elect representatives that will reverse some of the federal (and state!) laws that have already harmed so many residents in the state. It was a hard crowd to read, but before they left, my Dominican sisters assured me "We may be a quiet bunch, but know that we're soaking it in."
View more photos from this event here.