Travel Log: Philadelphia Town Hall
Erica Jordan, OP
October 24, 2018
The Nuns on the Bus arrived in Philly with some time to spare, so we were able to fit in an eclectic supper of left-overs; some hummus, grape leaves, and olives from yesterday's birthday celebration; and pizza.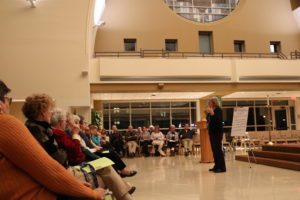 Just before 6:00 PM, we went to the chapel to begin our explanation and dramatization of the effect of the tax law from the 1980s, when Reaganomics was introduced, until the passage of the new tax bill into law in December 2017 – some 30+ years. We wanted to help our audience understand peoples' current economic position as the new law is implemented. This presentation of a "human bar graph" is a stark demonstration of the income inequality from the recent past and how much it will be exacerbated when the 2017 law goes into full effect.
The folks who gathered were mainly people from the surrounding community, several professors from St. Joseph's University, and a few students. The teachers wished that more of their students could have experienced the presentation.  We, too, wish there had been more students so we could have heard from them about their present and future financial concerns. Our input might have offered them insights also.
We continue to puzzle about how to engage young adults in meaningful conversations about tax policy and its relevance to them and to the common good of our nation.
View more photos from this event here.