Reflection: Choosing Positive Change
Sister Susan Rose Francois, CSJP
July 17, 2016
"It's hard to make a good choice when there is not a good choice available." – Peter Meinecke, youth program manager of the Farm Labor Organizing Committee in Toledo
One phrase that has been running through my head over the past week is that "actions have consequences." Is it any wonder that we have a widening wealth and income inequality gap when our nation has chosen, for the past three decades, to prioritize tax breaks for the wealthiest individuals and corporations over using our resources to invest in the common good?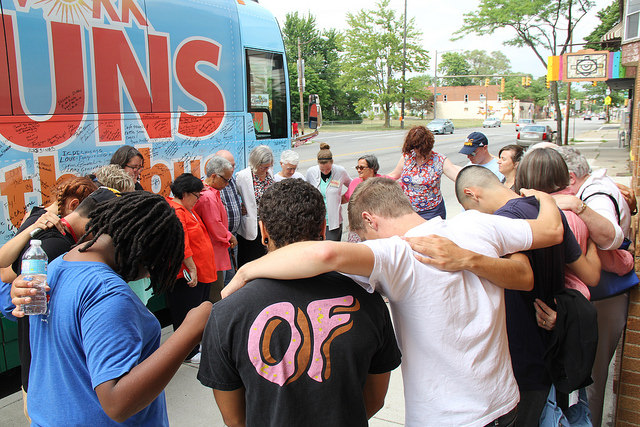 The negative impacts that our nation's policy choices have on people who are struggling are crystal clear in every state where the Nuns on the Bus have visited so far, and it's not just in urban areas. Our route has taken us through small rural communities, mid-size towns, and larger cities. At each stop along the way we are blessed to mingle with the local community. During site visits we have heard first-hand stories from ordinary folks unable to make ends meet, no matter how many shifts they work. I have learned that too many Americans are unable to provide for their families or to access things most of the rest of us take for granted, such as transportation, health care, safe and affordable housing, or non-predatory lending.
During our caucus events in the evening, we talk with folks in the community who are concerned about the widening gaps. Many of the participants have chosen to volunteer in their local soup kitchen or shelter, visiting at the local prison or helping kids in after school tutoring programs. These experiences have helped them to understand that in 21st Century America it is very difficult, if not impossible, to "pull yourself up by your bootstraps."
Our lack of investment in basic public infrastructure, such as public transportation systems, limits the choices available to low-wage workers in places like Jefferson City, Missouri where we learned that the public transit system stops running at 5pm, and does not operate on Saturday or Sunday. In Terre Haute, Indiana we learned that job seekers without their own transportation are unable to access new higher wage assembly jobs located in the outskirts of the city, because the transit system does not travel to these industrial areas. In Fort Wayne, Indiana we learned that even when a worker saves up to buy their own car, predatory lending practices mean that it is often impossible to keep up to date on car payments.
It has also become clear that structural racism limits the choices available to our nation's children. Racism is not limited to individual acts of prejudice, although we certainly heard many stories of this variety. In every city and town, we also heard people making connections that point to structural racism directing the allocation of resources. Schools in communities of color have less resources available because of inequity in school funding, and students are more likely to face harsh disciplinary penalties such as suspension. Meanwhile the neighborhoods where they grow up are more likely to have broken street lights, boarded up houses, and empty lots instead of state of the art playgrounds and well-lit streets.
On the day before the Nuns on the Bus headed into Cleveland, we visited with the FLOC Homies Union in Toledo, a social movement that brings the skills of labor organizing to young Latinos aged 14 to 24 to empower them to make change in their community.
We heard about the program from Peter Meinecke, youth program manager for the Farm Labor Organizing Committee. FLOC has an employment readiness and youth empowerment program that places youth, called Homies, in work sites in their community to gain first-hand experience. They also learn the basics of leadership and community organizing which they put into practice.
Several of the Homies joined us for conversation around the table. Billie shared the story of how her Homies class, which was mostly made up of young women, realized that each had experienced sexual harassment at school. They organized a march in June to raise awareness about sexual harassment and domestic violence. Three members of the Homies Union then met with Toledo Public School officials where they successfully negotiated adding training on sexual harassment and assault to the health class curriculum, posting information about sexual harassment in schools and the student handbook, and funding a Prevention Specialist in collaboration with the YMCA to work full time on the issue district wide. They managed to make all of these positive changes in just one meeting with school officials!
Another Homie, Alejandro, shared a compelling story of when he was pulled over and harassed by police because the air freshener hanging from his rearview mirror was "distracting." Many of the Homies have had similar experience with the police, which is why they are recordings their experiences to compile into a video to share with the chief of police. They are also actively negotiating a code of conduct between the police and the community.
The FLOC Homies are making choices to create positive change in their community. I wonder, as we the people face choices on the ballot in our local and national elections this fall, can we do the same?