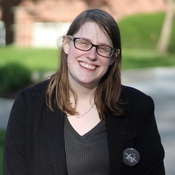 Policy Communications Associate
Caraline is a Policy Communications Associate at NETWORK. Before joining NETWORK, she worked as the Peace Studies Coordinator at Manchester University in North Manchester, Indiana where she mentored students in skills related to peace and volunteered as an interpersonal community meditator. She has a Bachelor of Arts in Peace Studies and Political Science from Manchester University.
Where she finds inspiration for work:
• The poetic wisdom of Mary Oliver
• The life and legacy of Detroit-based activist Grace Lee Boggs
What she loves outside of NETWORK:
• Reading
• Brush calligraphy
Originally from: Dayton, OH
Why she likes D.C: It is a city where change happens and there is so much to explore.