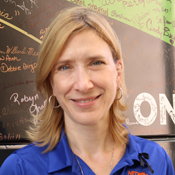 Government Relations Specialist
Sr. Quincy is one of our lobbyists-in-training. Her role is to learn to develop and execute strategies that advance our agenda on Capitol Hill and with the administration. Quincy brings a breadth of experience to NETWORK, including community development, disaster recovery and resilience planning, urban and regional planning, and affordable housing. She has a bachelor's degree in Mathematics and a master's in Community and Regional Planning from the University of Texas. Her continued education includes a Graduate Certificate from the University of Pennsylvania's Center for Urban Redevelopment Excellence Program and coursework in Theology and Scripture. She's also a newly professed Dominican Sister of Sinsinawa. Quincy is passionate about Catholic Social Justice and came to NETWORK on behalf of her sisters in the Order of Preachers (OP).
Where she finds inspiration for work:
• NETWORK's commitment to "walk-the-talk" as an organization
• How NETWORK enables civic engagement on behalf of the common good
• The legacy of women religious in U.S. history; their tireless work on behalf of the most vulnerable members of society
• Prayer
What she loves outside of NETWORK:
• Being outdoors and enjoying nature
• Socializing and meeting new people
Originally from: Nacogdoches, Texas
Why she likes D.C.: The history of politics and the civic architecture—it's where it's at!