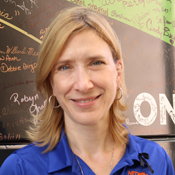 Sister Consultant
Sr. Quincy consults on a variety of projects for NETWORK coordinating with our grassroots mobilization team and with coalition partner organizations in the faith community and beyond. Quincy brings her experience in urban planning to NETWORK—including community development, disaster recovery and resilience planning, environmental advocacy, and policy analysis. A professed Dominican Sister of Sinsinawa, Quincy is passionate about Catholic Social Justice and the call to action to protect and serve the most vulnerable members of society.
Where she finds inspiration for work:
• Serving breakfast to the local homeless population at the Father McKenna Center
• The NETWORK advocates, always eager to engage around social justice policies
• The legacy of women religious in the U.S. and at NETWORK Lobby
• Prayer
• Meaningful conversations with people who care
What she loves outside of NETWORK:
• Being outdoors and enjoying nature; living in community; nurturing personal connections and meeting new people; TRAVEL!
Originally from: Nacogdoches ("The Oldest Town In…"), Texas
Why she likes D.C.: There is no better time and place to change the trajectory.