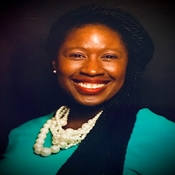 Senior Government Relations Advocate
Tralonne is a Senior Government Relations Advocate at NETWORK Lobby. In this capacity, she leads our lobby efforts championing a faithful budget, family-friendly workplace policies, and safe, affordable housing. Tralonne brings a wide array of experience to NETWORK Lobby including 20 years of public policy and appropriations and advocacy expertise, with extensive experience advocating on behalf of marginalized communities before Congress and the Executive Branch. Tralonne has served as an advisor to various federal and state elected officials, including the late Senator Frank Lautenberg. Prior to joining NETWORK Lobby, Tralonne was the Director of Public Policy and Government Affairs at the United Negro College Fund. Tralonne holds a bachelor's degree in Political Science from Howard University.
Where she finds inspiration for work:
• Isaiah 1:17: "Learn to do right; seek justice. Defend the oppressed. Take up the cause of the
fatherless; plead the case of the widow."
What she loves outside of NETWORK:
• Spending quality time with her family
• Sunday Brunch
• Long walks on a sunny day
Originally from: Edgewater Park, New Jersey
Why she likes D.C.: it's the nation's capital, the confluence of power and socio-political culture.